Is 2014 the Year of More Insane Burgers?
News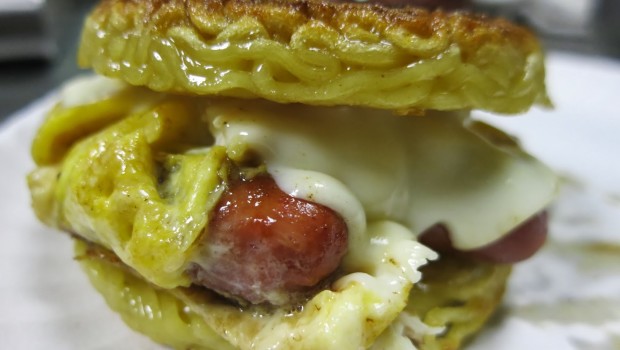 Published on January 16th, 2014 | by John
0
We're barely hallway through the month of January and already we're seeing more extreme burgers. 2013 will be remembered as the year of the Ramen Burger and Doughnut Burgers but 2014 may be an even bigger year yet. However I must say that there seems to be a little too-much trying to push the envelope of what is really a burger or a gimmick.
So far 2014 has introduced us to the PB&J Burger – A banana-Sriracha-soaked  burger made with 2 deep fried peanut butter and jelly sandwiches topped with copious amounts of  applewood-smoked bacon. Calorie estimate – 2,000.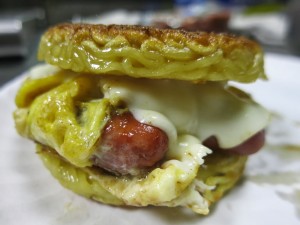 Keizo Shimamoto, the creator if the original Ramen Burger is introducing three new Ramen Burgers:
Adobe Shack
Lonestar Empire
Breakfast Ramen Burger
For more heart attacks waiting to happen, there's the Beast – a 3,000 calorie burger from Wichita hamburger chain Spangles. This Beast Burger which features six one-third-pound steak burger patties, 12 slices of American cheese, mustard, ketchup, onions and pickles  and costs almost $22.

And as gimmicky burgers go there's the new Beast Burger (what is it about naming your burger Beast?) at Century Link Field in honor of Seattle Seahawks running back Marshawn Lynch. Most notably comes with a side of Skittles. This Beast features two pieces of bacon, two slices of cheddar cheese, two hamburger patties,  slices of ham, onion rings, lettuce, tomato and red onion. 
2014 is certainly set up to be an interesting year for pushing the burger envelope. What's your favorite?