3rd Annual Twin Cities Burger Battle
News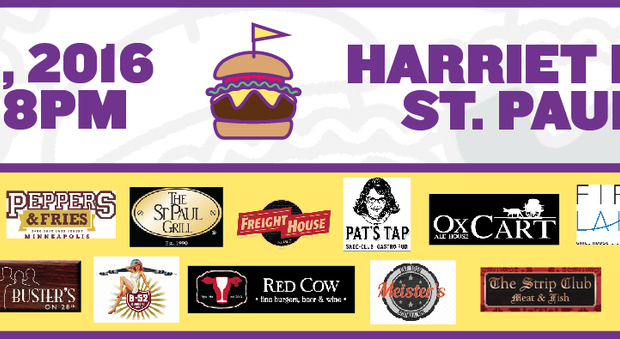 Published on April 1st, 2016 | by John
0
Get Ready to Rumble – 3rd Annual Twin Cities Burger Battle Set for May 21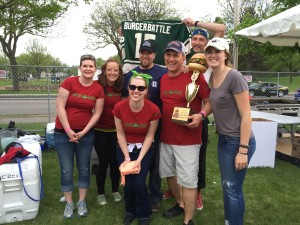 If three's a charm this year's Twin Cities Burger Battle will be an epic event that pits local restaurants for the coveted title of Best Burger in the Twin Cities.
Our beloved burger battle will take place at Harriet Island in St. Paul as the TC Burger Battle alternates venues between our sister cities. Last year's Minneapolis venue saw two St. Paul restaurants walk away with the title. Will Minneapolis burgers make a rebound?
"This year's location will provide an optimal area for guests to easily get around while also providing a scenic , fun, and intimate setting for everyone," says Founder and Organizer, Jim Buron. "We've really made an effort to expand our event but also wanted to make sure we keep the quality and spirit alive of our previous battles. We're extremely pleased to host our event in a beautiful setting across the river from downtown Saint Paul."
Much has changed since the first burger battle where 12 restaurants participated in the inaugural event. Last year, 20 noteworthy restaurants competed, and now this year 25 restaurants will go head to head (or should I say patty to patty) to see who reigns as this year's champions.
All previous burger battle winners are competing including last year's victors – Paddy Shack (Judge's Pick) and Saint Paul Grill (People's Choice); as well as 2014 prizewinners – B52 Burgers (Judge's Pick) and Gold Nugget (People's Choice).
If you've been keeping track the 2014 and 2015 Judge's Choice have all had elements of heat – pickled jalapeno, pepper jack cheese, sriracha sauce. Hmmm, I think I see a trend.
As of this date, here are the 2016 competing restaurants:
5-8 Club
7th Street Social
B-52 Burgers and Crew (2014 Judge's Pick)
BLVD Kitchen & Bar
Buster's on 28th
Casper's & Runyan's Nook
FireLake
Freight House
Gold Nugget (2014 People's Choice)
Meister's
Ox Cart Ale House
Paddy Shack (2015 Judge's Pick)
Pat's Tap
Pub 819
Peppers & Fries
Red Cow
St. Paul Grill (2015 People's Choice)
The Happy Gnome
Strip Club Meat and Fish
The Suburban
(plus 5 more to be announced)
New to this year's mix is Strip Club Meat and Fish, BLVD Kitchen & Bar, Ox Cart Ale House, Pub 819, Buster's on 28th.
Tickets and Information:
Tickets go on sale, April 5, 2016
Tickets are $55 per person and can be purchased online at the Twin Cities Burger Battle website.
Must be 21 years or older. ID required to get in.
The event runs from 5:00pm to 8:00pm.
All you can drink beer provided by Sponsors Fulton Brewing and Summit Brewing. (non-alcohol beverages also provided)
Live music (bands not yet announced).
What does it take to win the Twin Cities Burger Battle? Jim Buron sums it up. "Of course you have to provide a tasty burger, but there has to be elements of creativity and originality, and it must be well-executed."
In previous battles we've seen some contenders offer up a burger that is currently on their menu while others create a burger specific to the event. Last year we experienced some pretty creative attempts – some worked, some may have been a little too over-reaching. Needless to say, we here at Burger a Week are always happy to test a new spin on our beloved food fare and deeply appreciate the efforts and great lengths these restaurants go to at this culinary event!
To claim the title of Twin Cities Burger Battle Champion, burgers will be judged by a team of chefs, culinary professionals, and local celebrities. Burgers will be judged on presentation, taste, juiciness, creativity and originality. A second award will be given to the burger that wins The People's Choice Award. All attendees will be given a token to vote for their winning burger.
The format is simple. Each restaurant will prepare one version of a burger 'slider' along with an optional small 'side' for approximately 2,500 attendees. Checkout our recap of the 2015 Burger Battle to learn more. Beware that these 'slider-size' burgers are still 2-4 ounces of pure beef joy so pace yourself if you want to try a few.
The battle is an all-inclusive event where guests can eat and drink as much as they want. Additional activities and raffles will be provided by this year's sponsors including KDWB, K-FAN, German Fest, and Renewal by Anderson. Repeating as hosts for the event are local celebrity couple Falen from KDWB and KFAN's "Meatsauce" Paul Lambert.
Proceeds from the event will go to raise funds for the Sanneh Foundation. The Twin Cities Burger Battle has raised over $16,000 for the Foundation.
Be sure to get your tickets quickly as last year's sold out two weeks prior to the event.