5-8 Club – Juicy Lucy, Minneapolis MN
Burgers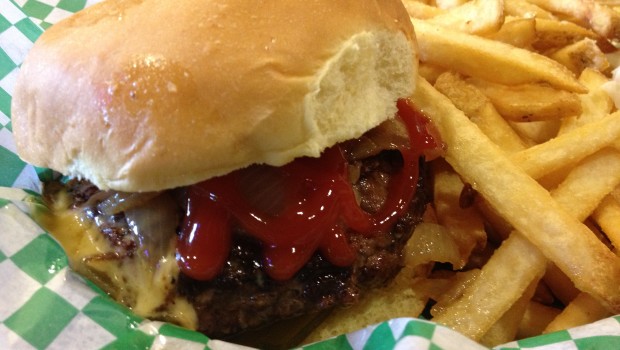 Published on September 3rd, 2013 | by John
0
5-8 Club
Summary: Have the Juicy Lucy!
A Minnesota Burger Joint Legend – Great Burgers and the Juicy Lucy Too!
The 5-8 plays an important role in the history and legacy of great Minnesota burgers. Located just 15 minutes from it's competitor for the the Juicy Lucy, it also lays claim to the judgement as founder of the original Juicy Lucy. Located not too far from the Minneapolis St Paul airport it serves spectacular burgers in a friendly casual setting. Of course the main stay and attraction is the Juicy Lucy (pictured above).
This burger establishment is a must-visit. As one of the contenders for the original Juicy Lucy it has gained national attention as one of the tope burger restaurants in Minnesota if not the United states.
The Juicy Lucy is prepared by stuffing an all-meat pat tie with the cheese of your choice. Not only is this a new take on the classic cheeseburger, it also helps provide a moist and well-cooked burger. Customers should take notice that every Juicy Lucy comes with a warning to take caution when biting into the burger and molten cheese!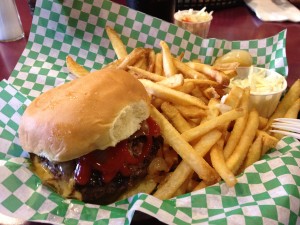 For those of you burger conniseurs out there make it a fun adventure and visit both Matt's and the 5-8 Club for your own Juicy Lucy taste test. You won't be disappointed! bring a long a few friends, take it easy on the fries so you'll have plenty of room to partake in these culinary delights.
One of the big differences between the 5-8 and Matt's is you get to choose your type of cheese for your Juicy Lucy! I have to wimp out here and say I can't tell you which one I prefer, i'd say it comes down to choice of environment. 5-8 is a little bit more 'upscale' so to speak but still provides a casual setting and choice of many burgers and alcoholic and no alcoholic drink choices. Fries are done well too. Consider sharing your fries as the start of this meal is definitely the burger!
The 5-8 also operates in three other locations – Maplewood and Champlin. Information and directions can be found at the 5-8 Club Website. Menus vary slightly at each location including the wine, beer and drink selections.