7 Deadly Burger Sins Restaurants are Committing
News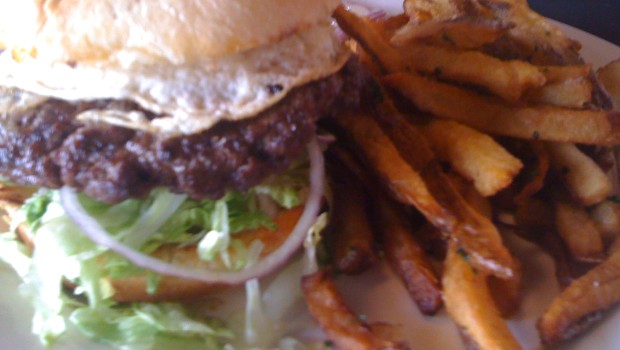 Published on February 23rd, 2015 | by John
0
Watch Out For These Seven Deadly Burger Sins
It seems like everybody has jumped on the burger band wagon these days. Every restaurant worth its salt is serving up their rendition of the next great burger. While we celebrate the myriad of burger options, we're also experiencing a number of missteps that are destroying many a burger experience. With  restaurants serving up burgers at exorbitant  prices, we think it's time we hold them to task. This post is not aimed at our favorite greasy spoons and burger joints, but the establishments charging north of $10 for meat and bun fare. We implore them not to commit these seven unforgivable sins.
Sin 1 – Overcooking the Patty
Whether it's flat-grilled or pub-style this is the worst sin of them all. The menu lulls us into salivating anticipation as we read about a grass-fed, house-ground patty of three meat cuts perfectly manicured and shaped. But we're quickly brought down to earth as we sink our teeth into an over-cooked patty. Burgers should be treated like any expensive cut of meat. Treat these babies with care! Over-cooking delivers less flavor and juice. We prefer ours medium-rare to medium.
Sin 2 – The Wrong Bun
Great burgers come on great buns. A bun that's designed for your burger. A bun that is neither too big nor too small. A bun that can handle a juicy burger without overwhelming the meat. If the burger bun is playing double duty on other menu items, it might not be a burger bun at all. And please don't give us a stale bun if you're charging us double-digits.
Sin 3 - Seasoning – Too Little or Too Much
I love salt. If my family allowed a salt lick in the living room I'd set one up. Restaurants really struggle in this area – either over or under-seasoning. Under-seasoned and the components of the burger don't come together – especially important when applying special jams, chutneys, toppings, cheeses. Over-seasoned – we're drinking a gallon of water afterwards.
Sin 4 – Toppings That Don't Work Together
Not all of us are entering an eating competition when it comes to burgers. Some of the best ones are just simple well-executed burgers. A great burger is a sympony of flavors. Piling up the toppings can over-power a great patty. Adding bacon and sautéed vegetables can also introduce extra salt. So please beware and ensure your toppings complement each other for a scrumptious experience.
Sin 5 – Melting of the Cheese
Melted cheese should be creamy and smooth. When melted correctly it flows graciously over the patty creating beautiful lava-like drips. An under-melted cheese has an awkward play with your palate in flavor and texture. Too much heat will also separate the fat from the milk solids in the cheese and create a puddle of oil. No thank you!
Sin 6 – Uneven Bites
Every bite should be as close to the previous bite as possible. A fine dish is an exploration and experience of flavors. When an aioli, topping, or jam isn't spread evenly we lose that balance. Peanut butter burgers are especially succeptable to this dilemma. If we're paying top dollar we shouldn't have to re-prep our burger before eating.
Sin 7 – Bad Sides
How many of us had a great meat patty only to find it with a side of frozen french fries and a limp pickle that looks like it's been around since the Eisenhower era. Most sides cost a fraction of what the burger costs to a restaurant. At least make a proper attempt. And when we do get a supply of nice home-cut fries, don't be chintzy.
There you have it. So next time you order that $12-$15 burger keep an eye out for some of these dreadful mistakes. Or head down to your neighborhood burger joint and enjoy a no-frills, well-executed $5 burger!