B, the Big Apple, and Burgers
News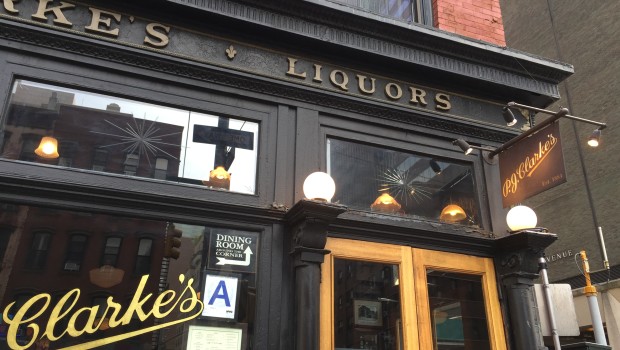 Published on June 29th, 2015 | by John
0
Recently I took my 12-year-old daughter (B, short for her real name) to New York for her first visit to one of my favorite cities. A chance for father and daughter to share some special one-on-one time; and me assuming we'd partake in some of the great burgers of New York. For a guy that's into burgers, New York is a meat and bun paradise with an abundance of burger joints, both inexpensive and lavish, throughout its urban landscape.
I've spent a lot of time in New York. I was even born and raised there for 14 years. Like most New Yorkers I grew up on some of the best food in the world. Be it a ham sandwich on hard roll, a creamy knish, or a slice of Brooklyn-stype pizza folded in one hand with a Coke in another. I grew up with flavors that danced upon my taste buds and set the benchmark for all future food and drink.
This blog was created after my last visit to New York back in the summer of 2013.  That trip involved only one burger tasting – so I was eager to try more. In order to get a good lay of the land for this burger adventure I reached out to the folks at Burger Weekly, the top burger blog for NYC from Brad Garoon. I initially connected with Brad last year when he asked me to write up a review for the Twin Cities Smashburger as part of his Smashburger Tour.  With his recommendations in hand, I was set to nab at least three or four tasty New York burgers. Little did I know my plan for a burger getaway was merely a fantasy – like unicorns and bipartisan politics.
It all started with the plane ride. Even though B and I have traveled together extensively my memory of her getting sick on an airplane was back when she was three-years-old; so when we landed at Laguardia without incident – we were on our way to an ill-free adventure. However, my enthusiasm quickly turned to concern as I witnessed B, pale and groggy, slumping in the backseat of our cab as we wound our way across the north side of Central Park. I rolled down the window to get her some fresh air and told her to look out at the incredible city views – but she'd have none of it.
Fortunately, we made it to our hotel where she'd soon get her bearings; but crossing the lobby she looked at me and uttered the most terrifying words a parent can hear, "Dad, I'm going to be sick." I dropped our luggage and spun frantically from side-to-side spying for a garbage can. With none in sight I ran over to one of the doorman and quickly explained our situation. He saw her and had a similar expression of – oh crap she's going to create her own Jackson Pollock on the lobby carpet. He quickly secured a plastic bag and I huddled with her on hands and knees as the bustle of tourists and business folks careened around us without too much notice. You got to love New York.
Needless to say we spent the evening in our room as she rested and watched TV while I roamed the local neighborhood for soda, pretzels, crackers, and whatever else B texted me. But hey, we have five more days in NYC we'll make it happen tomorrow.
Which we did. Even though it took some coaxing and a little bit of arguing with my little darling. For some reason B thought we should only spend an hour or two out in the city and spend the rest of our time back at the hotel chilling and watching TV. Thank you cable TV! (In fairness to B, a 12YO in NY was maybe not the best idea).  After much cajoling I convinced my precocious creation that it was time for a late burger lunch after navigating the crowded halls of the the Museum of Natural History and exploring Central Park in the rain.
My first order of business was the original PJ Clarke's in mid-town. Truth be told, there was a location closer to our hotel by Columbus Circle, but I needed to go to the original restaurant established in 1884. This legendary saloon has one of the best burgers in town – long before the burger craze of the new millennium.
We entered in front where the small original bar resides. A speakeasy where bootleggers once bent over mugs of warm beer and glasses of gin, and where a young Frank Sinatra threw back dry martinis. Once past the bar, like many a New York restaurant, stood a modest dining room crammed with small tables with red-checkered tablecloths. This place is packed during lunch and dinner, but our timing was good – hitting a late lunch only half the dining room was full so we were quickly seated.
I settled on the Clarke's Burger (Roma tomatoes, cheese, lettuce, bread and butter pickles) while B reluctantly chose the Cadillac Burger (Double smoked country bacon, American cheese). Our burgers came rather quickly with small tins of shoestring fries. The burgers were straight up and simple. They screamed old-school – stoic with the elegance of yesteryear – just like the rest of the place. A quirky surprise was the burgers sat on top of a full slice of raw onion. One bite and I quickly understood why PJ's has one of the top burgers in the city. The patty was like butter nestled between the perfect size burger bun baked specifically for PJ's by St. Joseph's.
B exclaimed this was by far the best burger she'd ever eaten. You might think to discount a 12YO's opinion but let me tell you that she's had some pretty decent food in her day and has a particular palate. I've done my best to pass down my love of food to B; and the importance of respecting and preparing it with love and intention. She can criticize a dish that can even make Gorden Ramsey blush (without the swear words). All in all we were well-satisfied. Even though bottles of Kensington's Gourmet Ketchup adorned our tables, there was no need to blemish this wonderful burger.
One down two or three more burger joints to go. But like all good things they must come to an end as B informed me the next day. She obviously had enough with burgers and wanted her staple dish of shrimp and pasta. So as any good modern father would do we ended up at a few Italian restaurants. Which isn't too bad when you're in the Big Apple.
With time running out I had to figure out something fast. And then opportunity presented itself. We had tickets to the 9/11 Museum located by Ground Zero. After a sobering few hours reliving that dreadful day we made our way down to Battery Park where a Shake Shack sits right behind Goldman Sachs. While I wanted to experience Shake Shack at its original location at Madison Square Park, I had to make do as this was on my list of burgers to try in NYC.
For those of you not familiar with this chain restaurant they went public in the beginning of 2015 and are in contention to compete with some of the other high-end, sustainable, organic, 'fast-casual' restaurants such as Chipotle and Panera. More importantly they have expanded on the West Coast to go head-to-head with one of my favorite chains – In-N-Out Burger.
I dragged my protesting B into the Shack crowded with tourists, hipsters, and investment bankers. We ordered our burgers and took a number. Surprisingly B skipped getting a shake as that is one of the many bribes I use to get her into burger joints. After a wait of about 5-7 minutes our burgers arrived. I had the standard Shake Shack burger; B had a plain burger with bacon (a lot of bacon).  For the price the burgers were nice and fresh. Very much on par with In-N-Out. I can see why this chain is making a name for itself both in the U.S. and abroad.
With only two burgers down it was our last night in NYC. B and I again danced the usual dance. She argued to re-visit one of the Italian joints that prepared her a decent shrimp and pasta while yours truly did his best to explain that NYC has thousands of restaurants and why do we want to go to the same one. But defeat was imminent. The quiet voice in my head reminding me that I took B here for her – was it not her trip?
So as twilight painted the metropolitan sky we headed down 6th Avenue to revisit B's favorite. Unfortunately for both of us the food was a far cry from the previous night. B's shrimp was overdone and under-seasoned. Mine – expensive yet tasteless. We ambled out with dejection in both our hearts and bellies. From 6th we turned down 57th Street towards our hotel. Suddenly a strange and foreign light cast its glow upon us. The Brooklyn Diner. One of the recommendations from our friends at Burger Weekly. Only three blocks from our hotel. How did I manage to miss this? I stopped, stricken and staring at the neon glow engulfing us. Like an orange tractor beam I stood in its grip – motionless, mouth agape. B took notice and with a mixture of sarcasm and sympathy that only 12YO's can muster she gently patted my tummy and told me it would be okay – the Brooklyn Diner would be here for my next visit. After a few waning moments, we locked hands and continued our stroll down the street.
I love walking the streets of New York on a summer night – the sights, smells, sounds, and aura. But more importantly, this time I got to share it with B.
Editors Note: B read and approved this post. ;0)