Best Juicy Lucys in Minnesota
News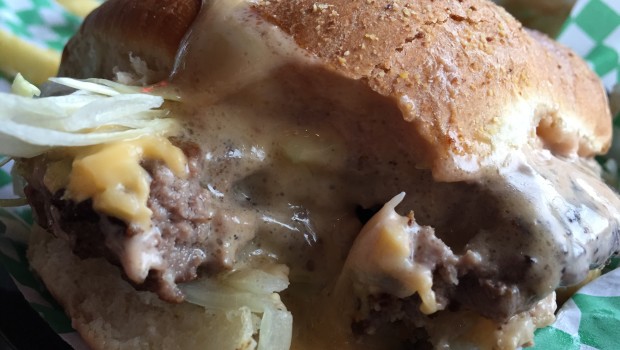 Published on November 13th, 2015 | by John
0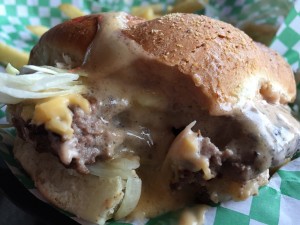 Minnesota is known for its shimmering lakes, Arctic winters, college hockey, and its Minnesota-nice residents. When it comes to the world of culinary icons, the state has produced legendary characters such as the Pillsbury Doughboy, Betty Crocker, and the Jolly Green Giant. Minnesotans will quickly point out other gastronomical contributions like Lutefisk, hot-dish, and MN State Fair what food-can-we-put-on-a-stick. But in the theater of burger fare the Juicy Lucy reigns supreme as one of the state's finest offerings. 
The Juicy Lucy, a burger stuffed with cheese, was questionably introduced to Minnesota by Matt's Bar – who spells it "Jucy Lucy" or the 5-8 Club located a mere 3 miles down Cedar Avenue in South Minneapolis. A quarrelsome claim by both parties of this beloved meat and cheese wonder that at times is as heated as the Hatfields and McCoys. Each establishment claiming superior ownership for inventing something as simple and basic as stuffing a burger with cheese. And who can blame them as the Juicy Lucy was recently hailed by Time Magazine as one of 17 most influential burgers of all-time. 
Historical relevance and accuracy is quite fuzzy on the origination of the Lucy; but word on the street is a hungry customer came into Matt's Bar asking for a burger stuffed with cheese. Matt obliged to the customer's request and according to folklore, the customer bit into his fresh-made burger exclaiming, "What a Juicy Lucy!" And hence the legend was born. The misspelling of juicy was allegedly a sign printer's mistake and Matt decided to just roll with it. But if you talk to a 5-8 Club zealot they will also claim birth to this juicy cheesy concoction.
How can something as simple as a burger stuffed with cheese make such an impact? Was stuffing food inventive back in the 50's? Not really. We've been stuffing foods for years – pastries like eclairs and jelly donuts.  Pasta – hello ravioli, tortellini. Peppers. Mushrooms. Fish. Chicken has taken the most abuse getting violated at every orifice including my favorite – Chicken Kiev. 
But before we dismiss the idea of stuffing being common let's look at what the Juicy Lucy has ignited. Everyday more common-food dishes are getting stuffed with cheese: hot dogs, sausages, pizza crusts, there's even cheese-stuffed Doritos! 
So how does one eat a Juicy Lucy – quite carefully. At any fine Juicy Lucy establishment the server will issue warning to exercise caution when biting into a burger filled with hot lava-like cheese.  Witness patrons as they take a delicate precipitous first bite followed by wonderment as the cheese center oozes out. One should always tilt the burger slightly up and lean over plate otherwise the cheesy pond of gold will end up on plate or lap. And what fun is that? When available order your Lucy with fried onions and have a meal of a lifetime.

Getting a perfect Juicy Lucy isn't as simple as stuffing a burger with cheese. Much technique and finesse is required to get a great tasting burger that is seasoned well, has molten cheese, and isn't overcooked. One element to inspect is the shape of the patty. Is it obvious that two burgers have been pressed together? A well-shaped Lucy shouldn't look like a warped hockey puck or two amoebas copulating. The art of melting the cheese within the burger is essential to having properly melted cheese without over-cooking and drying out the burger. The cheese itself should be uniform so every bite has a satisfying blend of meat and cheese. And is there enough cheese to warrant the title Juicy Lucy? Burgers not on our list were typically void of enough cheese to meet this criteria – either lacking enough or too densely centered that most bites were cheese-less. One of the greater sins is cheese leakage during cooking that should relegate the burger to the garbage can and not the customer's plate. Lastly the burger should be properly seasoned with nice char on both sides sealing in natural juices as well as the coveted cheese.
So who makes the best Juicy Lucy in Minnesota? Here are some of our favorite spots in the Twin Cities to get a delicious Juicy Lucy.
Editor's Note:  We are always hesitant to order Juicy Lucy's from restaurants that don't have a reputation for this type of burger as they are not easy to prepare if you want a well-executed Juicy Lucy so my list may be lacking other fine venues. My apologies to all but please feel free to let us know your favorites.
Our recommendations are in alphabetical order:
The 5-8 Club - The Juicy Lucy. If you can do it go to the original off Cedar Avenue in Minneapolis not far from the airport. A kid-friendly place and the original 5-8 Club at that. Here you can choose your type of cheese. Want a twist on the Juicy Lucy, try the Saucy Sally – a burger stuffed with special sauce, topped with cheese and lots of onions. Breath mints mandatory.
Blue Door Pub - The Juicy Blucy. A Burger stuffed with blue cheese. Blue cheese seems to be a popular cheese nowadays for specialty burgers. You can add toppings or take it the way it comes. But plan on standing in line as the Blue Door has a rabid following of any local burger joint. Great selection of micro-brews.

Hell's Kitchen - the Juicy Lucifer. A Lucy with some heat on it provided by a delectable sweet and spicy red pepper jelly that will make you feel a little bad on the outside but good on the in. If the devils going to make you do it, then do it with one of these hot and spicy bad boys.
Matt's Bar - The Jucy Lucy. A place frozen in time. Preferably perfect when you're a little hungover or just want to hang out in a neighborhood joint. President Obama made it even more famous by his visit in 2014. The grill behind the bar, seasoned beyond imagination from thousands of Lucys, grills up a great burger. Add fried onions and a PBR tall boy and you're set. But bring cash as credit cards are not accepted. You can also get a double cheeseburger that will give the Lucy a run for its money.
The Nook - The Juicy Nookie. Gotta love the name. Anything that references the dirty deed is fine in my book. St. Paul's historic neighborhood burger joint serves up some tremendous iconic burgers named after local sports legends and does the Lucy proud. 
Vincent - Vincent Burger. This is the Cadillac of Jucy Lucys. A burger stuffed with braised short rib and smoked Gouda cheese. From the outside this burger looks ordinary – sitting on a plain bun with shredded lettuce and sliced tomato. One bite and you are in burger stuffed heaven. While this is one of my favorite burgers in Minneapolis Chef Vincent has decided to close shop to pursue other passions at the end of 2015 so get downtown and enjoy this culinary masterpiece.