Boulevard Kitchen, Minnetonka MN
Burgers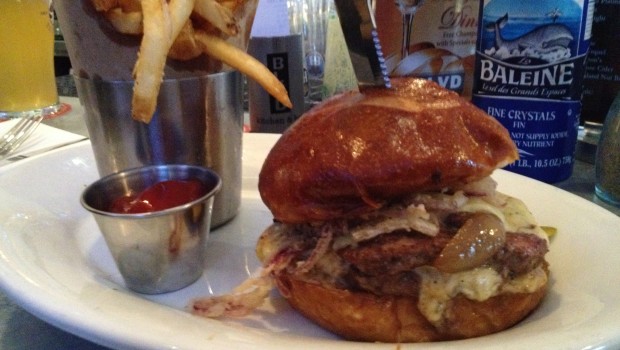 Published on January 8th, 2014 | by John
0
Summary: Good burgers but the Royale with Cheese is the winner.
Royale w/Cheese at Boulevard Kitchen
I can't say the name of this burger without thinking of the colorful burger and metric system exchange between Samuel Jackson and John Travolta in Pulp Fiction. But the Royale with Cheese (pictured above) is a culinary delight where beef, cheese, and onions come together in perfect harmony. Maybe you'll have the same reaction to its name so here's a short clip for your enjoyment (graphic language).
Now that that's over, let's get to the meat of the discussion. First let me be completely forthcoming about this experience. This is the third burger I've had at Boulevard. The first two burger experiences left me with little to say – good, above average, but nothing to get too excited about especially at $13 to $14 a pop – I mean burger. Maybe it's been the recent positive posts by some of the local food critics on the distinction of this prominent burger found in the west suburbs of Minneapolis. Or maybe father time has granted Boulevard occasion to perfect its burgers. Over 18 months have passed since I last consumed meat and bun at this establishment and my views have changed for the better.
The Royale with Cheese is two beef patties with melted white american cheese, topped with caramelized onions and frizzled onions (aka crispy fried onions) with sliced briny pickles on the perfect pretzel bun. Please order this burger as is because you want to get the full effect of the two types of onions. Plus it's cooked medium which helps keep these patties juicy and tasty. Comes with terrific home cut fries that are crispy yet not saturated with oil like some other fries we've experienced. However this burger is quite filling so easy on them fries.
The menu has a few other burgers which I can't say I'm overly thrilled about but maybe it's time to re-try them as well. My first burger here more than two years ago was the Frenchie Burger. A burger topped with swiss cheese, caramelized onions and french onion soup for dipping. Nothing really stood out for me and I left disappointed thinking I was supposed to get that wonderful, sloppy beef au jus experience one finds with the classic French Dip. However, it might just be time to go back and try that one as well. Viva La France!
For $13 this burger falls on the higher side of burger fare spectrum but this restaurant offers some excellent micro-brews as well as a wide selection of culinary offerings. If you're with one of your favorite burger buddies I suggest bellying up to the bar for a burger and beer. You'll get an immediate seat plus the vantage point of people watching as this place does have a reputation as a pick-up joint for the 40 and above.
Overall the food is excellent as it's founded by restauranteur Dean Vlahos of Redstone & Champps Americana fame. Kind of an odd location located in a large strip mall nestled between Michaels and Dicks Sporting Goods.