Burger Jones – Minneapolis MN
Burgers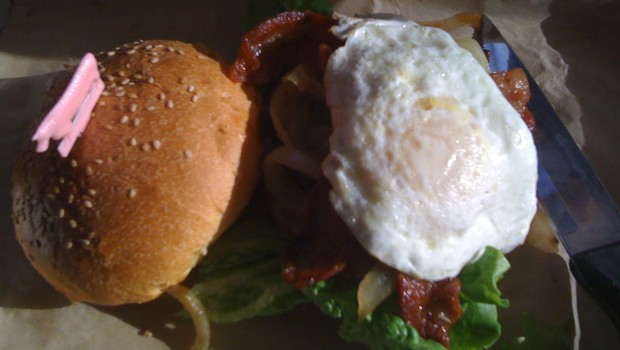 Published on November 8th, 2013 | by John
0
Burger Jones - Overview
Summary: This Parasole offering serves up some pretty decent burgers.
Parasole Cooking Up Good Burgers at Burger Jones
Burger Jones has 2 locations in the Twin Cities – my favorite is in Uptown Minneapolis – Calhoun Lake area. Their other location is in Burnsville, MN. Burger Jones is part of the Parasole Restaurant Group. I've found their burgers to be on a range of good to great. My favorite burger is the Hangover Burger (pictured above). A bacon, cheese, egg-topped burger with hot sauce on an English Muffin.
There are a variety of burgers including the White Trash Burger – a burger topped with chicken-fried bacon, fried cheese curds and plenty of Velveeta cheese. Not for the weak of heart. They also have a monthly or daily special that can range from the simple to the complex over-the-top burger such as the Thanksgiving Burger (Pictured Below) – a turkey burger topped with mashed potatoes, corn, stuffing and gravy. Certainly not the most beautiful of burgers, but as promised by my enthusiastic server, well worth it.
The restaurant offers build-your-own burgers with a variety of patties including chicken, turkey, bison, and veggie. My wife thought her veggie burger was 4-stars. Fries are excellent offering a selection of dipping sauces.
But I'd have to say one of the bright stars of this restaurant is the malts and shakes. The Salted Caramel is to die for! You must absolutely have one on your visit. The restaurant also has a full-bar with signature drinks and great local micro-brews.
Besides burgers you can also get a few other items including hot dogs. While an upscale burger establishment, it is very kid-friendly. Don't be surprised to see some young families getting their burger on!
Find this burger at