Cooper Irish Pub – St Louis Park, MN
Burgers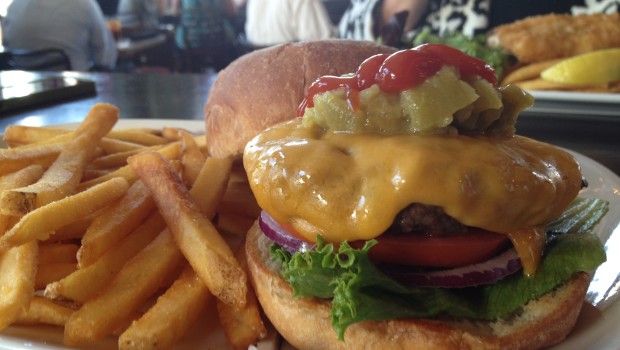 Published on October 15th, 2013 | by John
0
Summary: Great pace for a burger.
The Bison Burger at Coopers was a little bit of a let down. It's a locally sourced bison burger, with yellow cheddar cheese, a green chili and roasted garlic relish served on a toasted potato bun. Let's start with the positives. A nice bun – potato's my favorite. Good Irish cheddar and last but not least the star of this burger – the green chili roasted garlic relish. I'm not a huge fan of too many condiments and relishes/sauces but it was a nice complement to the burger. Unfortunately the burger patty itself was the weakest part of this meal. I requested a medium-cooked patty as the bison would be easy to overcook. My burger was pretty much well-done. It was dry and had little to no flavor. A little seasoning or added fat could have made a huge difference.
But why would anyone order a bison burger. The calories and fat? Is this the less guilty meat option? I guess so but it just can't stand up to the cow-based variety. Nevertheless I'll have to try a 'regular' burger at Coopers in the future because it's a great spot just outside of downtown Minneapolis.