:D-Spot in Maplewood MN
Burgers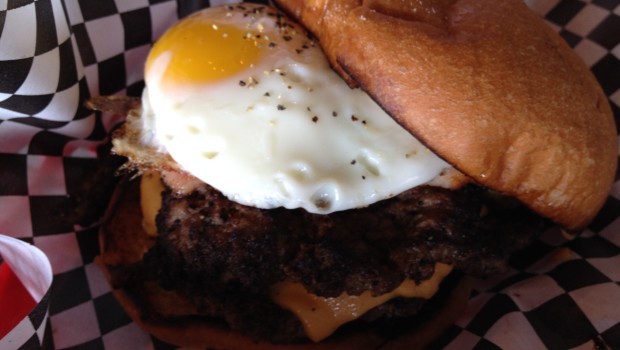 Published on March 2nd, 2014 | by John
0
:D-Spot - Overview
Summary: Innovation at it's set when it comes to small burger joints. Try the wings too!
4
Brilliantly innovative!
This is by far the biggest burger surprise for 2014 so far. It would be easy to drive by and miss this small iconic restaurant located just off Century Avenue in Maplewood, MN. The :D-Spot is everything you love in a burger joint – non-pretentious, delicious home-made burgers, innovation, gluttony, attitude, and a staff that's enthusiastic and proud of what they're cooking up.
Known primarily for their made-from-scratch wings with over 85 varieties they also serve up some delicious and iconic burgers. Chef/owner Darin Koch takes his diverse culinary background and applies it with flair to some if the tastiest burgers east of the Mississippi.
My buddy Brian and I made it a late lunch to avoid the long lunch lines which are common for this suburban eatery. While perusing the D Spot Menu, I asked and received some direct recommendations from the gentleman behind the counter on which burgers to try. I started with the Black Beard - two quarter-pound patties, cheese, the cooked in their Black Widow sauce. I had it topped with a fried sunny-side egg which they aptly called the Black Pearl. The taste of this burger was enhanced as after grilling the burger they finish it in their infamous Black Widow Sauce. The sauce is made up of a soy glaze, cracked fennel and a dry cajun rub. What you get is salty, sweet and savory flavor that makes this burger a one-of-a-kind.
We also ordered the wing special that was made to order for us along with a side of fires to share. The fries are battered, deep-fried with seasoning. They were crispy and salty with a hint of heat.
I had a couple of the wings because they are definitely the highlight of this restaurant but being on a burger run, my focus remianed on the burger. However with that said the wings were outstanding and delicious. What set their wings from everyone else's is they are cooked to order. The sauces are made from scratch. It takes a little bit longer but the wait is worth it.
I made the mistake of asking for ketch as the condiment was not readily available at our table. I received a stern lecture from our server that the chef doesn't think ketchup is a good for you nor required for the meal. My server acquiesced to my request although I ended up barely using any. i simply wanted some for my fries. The burger required none.
This place is definitely on my radar for future trips. I'd love to sample more of their burgers and of course the wings too.