Eat Shop Plymouth MN Burger review
Burgers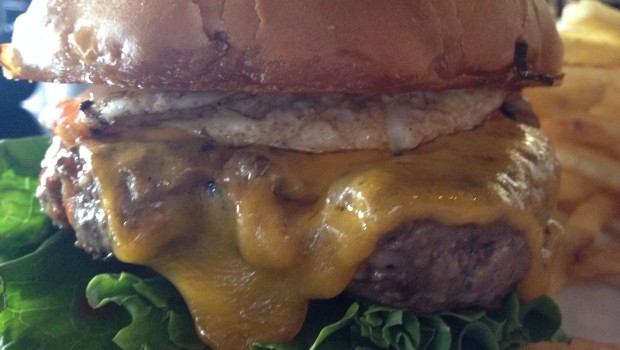 Published on March 7th, 2014 | by John
0
Eat Shop Burger - Overview
Summary: Eat Shop brings great burgers to the West Suburbs
3.5
Great Burgers in the West Suburbs
The Heat is On for This Burger at Eat Shop
Eat Shop servers up some big burgers. This recent addition to the Plymouth restaurant scene is a welcome addition to the suburbs and a delight for burger lovers as few restaurants in this area serve up anything remote to a fine home made burger. I went to Eat Shop with little expectations due to its suburban location. I've heard mixed reviews in terms of bring Uptown Minneapolis to the suburbs versus not living up to expectations. But with all that said the burgers delivered.  My burger-lunch-mate and I split the Kitchen Burger (highly recommended by our server) and the Turkey Burger.
The Kitchen Burger a is well-seared and seasoned burger topped with a fried egg, cheddar cheese, with hot sauce and pickled peppers. While I'm not a fan of putting hot sauce on my burgers, the balance of heat and tang of the peppers was a perfect complement to this burger. Eat Shop Chef, Jeff Anderson, pulls off the restaurant's favorite burger with a well-balanced level of culinary elements. The restraint in not putting bacon on this burger as most breakfast-type burgers are often to do when dealing with the hot sauce, egg combination.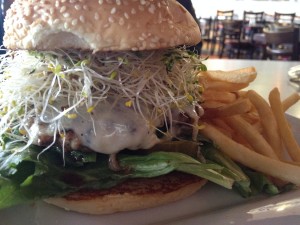 The turkey burger (pictured right) is also a well-seasoned and moist burger. The only drawback or criticism I see with this burger is Eat Shop's over-abundance of sprouts practically overwhelmed this juicy burger – a task in itself that is most difficult with such a low-fat poultry.
All in all the burgers are done well and priced appropriately. So next time you're in the far-west suburbs skip the chains and head on over to Eat Shop for a culinary burger at a reasonable price.