Our Favorite Burgers from 2014
News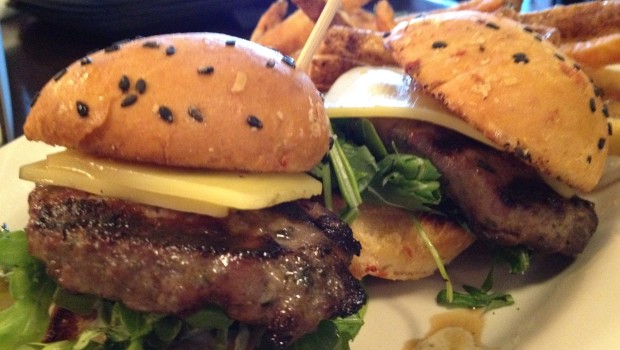 Published on January 10th, 2015 | by John
1
2014 was our first year testing burgers and what a year it was. Here's some of our top favorites!
Disclaimer: These are burgers that we tested this past year. It doesn't mean there aren't other great burgers and contenders out there, we just didn't partake of those in 2014. It may take a lifetime to test all burgers and we're willing to do that; but these burgers are worth checking out!
There's pretenders who think if they throw everything but the kitchen sink at a burger it will miraculously morph into a stunning burger. But Executive Chef JD Fratzke's Chef's Loaded Burger has all the right moves. With a perfectly cooked, seasoned, generous, grass-fed beef pattie topped with locally-sourced bacon, cheese, tomato, and a lush sunny-side up egg, this is a meat-lover's dream. But the coup d'etat is it rests on top of a bed of seasoned mushrooms that complement this succulent mouth-watering beast of a burger. Its use of fresh, top-shelf ingredients executed with culinary mastery, delivers a symphony of flavors that will serenade your taste buds and warm your cockles.
Best Game Burger: Bison & Elk Burger – Glen Lake Cafe (now served at Cast & Cru)
Sustainability and locally provided meat is the game here (no pun intended). I originally had the Bison & Elk Burger as an off-menu creation by Irish-born Chef Patrick Scot Moore at Glen Lake Cafe (now Head Chef at Cast & Cru). While the leanness of most game burgers tend to dry them out, Chef Moore infuses duck fat in this combo to render a juicy and luscious burger. Top it off with pear and poblano chutney that delivers just the right amount of sweetness and heat along with fontina cheese on a bed of arugula – you have a melody of rich flavors and textures. This is a must-have for anyone wishing to venture into wild-game burgers or has been disappointed with the current versions of bison burgers.
Best House/Bar Burger: House Burger, Meritage
The French restaurants in the Twin Cities make some of the best burgers in town. This one comes highly recommended by burger and foodie aficionados in the Twin Cities, and it didn't disappoint. Simple, yet exquisite in nature, Chef Klein serves up a burger that literally melts in your mouth. He starts with a thick grass-fed pattie topped with Emmentaler cheese, wine cooked shallot confit, tomato and bib lettuce on a rustic bun with roasted garlic aioli. Even the cheese is beautifully melted to create a true work of art worthy of any museum wall. And no French restaurant would think of serving a burger like this without some tasty pomme frites and bearnaise sauce. C'est magnifique!
Best Turkey Burger: Turkey Burger – Red Cow
I love my beef burgers but there's something special about a turkey burger. Maybe it's the small lie we tell ourselves by indulging in something a little less fattening and filling; or maybe we just need to take a break from beef burgers. Like game burgers, turkey burgers can fall into the same trap of dryness or end up having the consistency of meatloaf. This beauty lives up to its hype as a top turkey burger in the Twin Cities with bold flavor and lush toppings. You have to love a burger topped with pistachios and thinly sliced radishes providing a zesty crunch. The well-seasoned and perfectly cooked burger comes with a spicy cilantro-lime aioli that adds just the right kick. Definitely a top-contender when looking for a non-beef burger alternative.
Best Burger Outing: Twin Cities Burger Battle – 12 Contenders
Hats off to Jim Buron for founding the Twin Cities Burger Battle. Burger connoisseurs, young and old, descended upon St Paul's Mears Park as 12 local restaurants went head-to-head in this 3-hour duel in the sun. Okay it wasn't that sunny, but it was a beautiful May afternoon. The surprising winner was B-52 Burgers as Judges Choice for their B-52 Spicy Burger with Gold Nugget winning the People's Choice Award for their Chimichurri Burger. A few missteps by some of the local favorites such as Victory 44′s  Perfect Burger. Logistics and planning got the best of them but I can attest it's one of the best burgers in town so please visit their establishment. I applaud some of the locals that went out of their safe zone with some creative burgers such as the Nook's Cutie-Kabobb-urger and Groveland Tap's Sweet Ride Burger which pushed the envelope beyond all the burgers we tested. We're already counting the days for the 2nd Annual Twin Cities Burger Battle which is to be held in Minneapolis in 2015. Expect a bigger venue, more competitors, and hopefully a plethora of creative and inventive burgers.