Glen Lake Cafe MN – Lamb Burgers and More
Burgers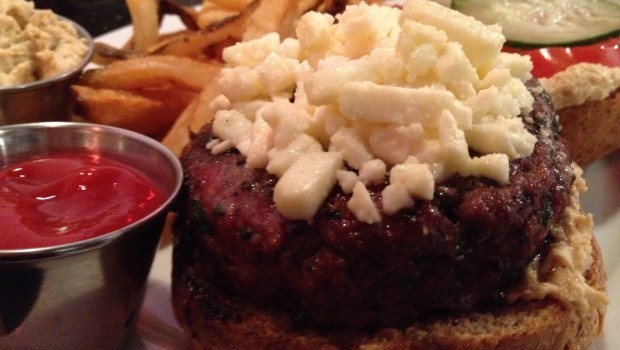 Published on January 27th, 2014 | by John
0
Summary: Great burger but the Lamb Burger is to die for. Also try other burger specials when available.
A Lamb Burger to Remember
Unfortunately the Glen Lake Cafe is no Longer in Business. The Chef Patrick Scot Moore is serving up similar burgers/slides at Cast & Cru.
A big thanks to my buddy Ken for introducing me to this new restaurant tucked away in a strip mall in Glen Lake, Minnesota. With a clean, modern look the cafe is a highly inviting eating establishment that is typically found in more urban dwellings.
After a friendly greeting from the owner, Tom Peterson, my burger buddy and I had a nice quiet booth in the back. We both ordered the highly recommended lamb burger plus a cheeseburger. Per the recommendation of Chef Patrick, we had our lamb burgers cooked medium-rare. The burger is created with freshly ground lamb that is locally sourced from a nearby farm in Orono, MN. It is seared perfectly on both sides seasoned with cumin, mint and various spices. It is built on top of a sturdy whole-grain bun with a wonderful hummus on the bottom, topped with feta cheese, tomato, cucumber and more hummus. Truly a work of art.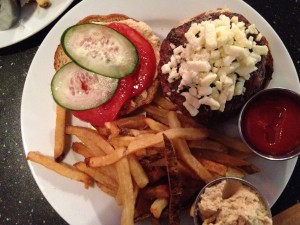 Not being an over-zealous fan of lamb I was really taken back by the moistness and flavor of this burger. The hummus adds a nice balance to the lamb. A less-technical chef could have easily made the lamb burger a non-burger so to speak. The balance among ingredients is simple yet well executed.
The menu also boasts a number of burgers made from either grass-fed beef, grilled chicken, or veggie. From there you can order the following burgers of your choice:
Glen Lake – lettuce, tomato, onion, cheddar
Streetcar  - bleu cheese, caramelized onion
Elrancho – guacamole, pico de gallo, pepper jack
Kraemer's – sautéed mushrooms, sauerkraut, swiss
Prices range from $9 to $13. For an extra $1.50 you can get hand-cut fries versus the green salad. The fries are worth the extra $. if your with a friend I suggest ordering one with fries so you can split both salad and fries.
I'm very pleased to see a new restaurant with so much variety on their menu but most importantly pushing the envelope when it comes to various meats. In a brief conversation with Chef Patrick, he has a passion for game meat including elk. We're hoping the Elk Burger is not too far around the corner.