Paddy Shack and The St. Paul Grill Win 2015 Twin Cities Burger Battle
News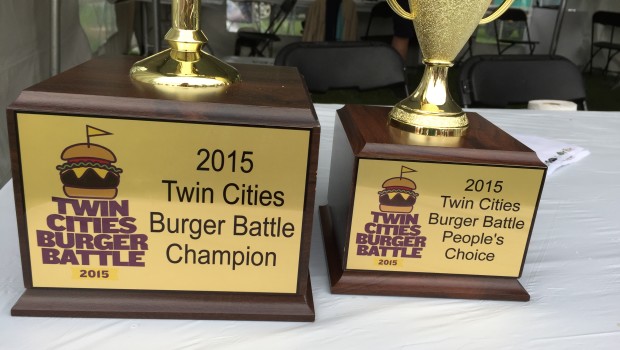 Published on May 19th, 2015 | by John
0
PRESS RELEASE, MINNEAPOLIS – May 18, 2015 – Two St. Paul restaurants rode out of Minneapolis as winners of the Twin Cities Burger Battle Saturday. Paddy Shack took home the Burger Battle Champion title awarded by a panel of six judges while The St. Paul Grill won the People's Choice trophy determined by attendees who casted votes for their favorite.
A crowd of 2,000 welcomed the event to the Minneapolis Armory in Northeast Minneapolis. The 19 competing restaurants came from both Twin Cities and surrounding suburbs. With the two winners calling St. Paul home this marks the first time one city swept both awards after two suburban restaurants won in 2014. Complimenting the burgers was beer served from Summit and Fulton along with serious funk from the band The UnderGroove.
Chef Jack Riebel of Paddy Shack at Half Time Rec, which made its first Burger Battle appearance, served up its Paddy Shack Burger. Grass-fed beef, American cheese, pickled green tomatoes and onions covered in Paddy sauce won over the Burger Battle's six judges. Including Thomas Boemer from Corner Table and Revival, Stephanie March fromMpls.St.Paul Magazine, Ryan Cook from Sea Change, Peter Domenick from The Buttered Tin, and event emcees Falen from 101.3 KDWB and Meatsauce, from KFAN FM 100.3.
The St. Paul Grill's chef team, led by Sous Chef Corey Picca, served its 2015 Triple Beer Grill Burger. The burger was made from triple prime beef with crispy pancetta, topped with blonde ale mustard aioli, IPA marinated fried shallots, caramelized onion porter steak sauce and smoked gouda on a salted pretzel bun. The St. Paul Grill also contended in 2014's inaugural Burger Battle.
Event organizer Jim Buron presented a $10,000 check to The Sanneh Foundation of St. Paul. A raffle prize including gift cards from many of the participating restaurants, worth more than $500, raised another $1,500, bringing the total amount for The Sanneh Foundation up to $11,500. Founded by former professional soccer player and 2002 U.S. Men's National Team member Tony Sanneh, the foundation helps at-risk children develop leadership skills with mentoring, after-school programming, tutoring and college prep training.
Burger Battle sponsors included Summit Brewing Co., Fulton Beer, KFAN, KDWB, aimClear Digital Marketing Agency, Rancher's Legacy Meat Co., The Minnesota Beef Council, Filo Productions, U.S. Foods and GermanFest. The Minnesota Wild also donated jerseys to both winning restaurants to display along with their Burger Battle trophies.
The full list of restaurants and their burger entries:
Twin Cities Burger Battle Champion: Paddy Shack
NAME: Paddy Shack Burger – Minnesota grass fed beef, American cheese, chopped lettuce, pickled green tomatoes, onions and paddy sauce.
People's Choice Award Winner: The St. Paul Grill
NAME: 2015 Triple Beer Grill Burger – Triple prime beef with crispy pancetta, blonde ale mustard aioli, IPA marinated fried shallots, caramelized onion porter steak sauce and smoked gouda on a salted pretzel bun.
 Burger Contenders:
RESTAURANT: 5-8 Club
NAME: Three Little Pigs Juicy Lucy
RESTAURANT: 7th Street Social
NAME: CR7 – Brioche bun, Munster, pancetta, arugula, red onion, house pickles, special sauce.
RESTAURANT: B-52 Burgers & Brew
NAME: The Agave Burger – Signature beef patty with a special cured bacon, fresh jalapenos, and caramelized onions roasted in a naturally sweet agave nectar and blanketed with pepper jack cheese.
RESTAURANT: Casper & Runyon's Nook
NAME: Bánh Mì Burger – Ground chuck and ground pork patty cooked and dressed with hoisin sauce, and beef pâté layered on top of a French baguette, topped with fresh cilantro, and jalapenos. Presented with lightly pickled cucumbers, daikon radish, red onions, and carrots.
RESTAURANT: Digby's
NAME: Mexican Burger – Seasoned ground beef, chorizo, Pico de gallo, lettuce, American cheese, Fried tortilla chip, jalapeno mayo.
RESTAURANT: FireLake Grill House & Cocktail Bar
NAME: Blu Ox Burger – Peterson Farms Limousin beef stuffed with AmaBlu cheese, bacon marmalade, ox tail ragu.
RESTAURANT: Freight House
NAME: Belly Slider – Ranchers Legacy hamburger with molasses roasted Creekstone farms pork belly, house made pickles, and a cilantro-lime aioli.
RESTAURANT: Gold Nugget Tavern & Grille
NAME: The Swede – Caramelized onions mixed with a custom blend of sirloin, chuck, and short rib beef patty, topped with rhubarb ketchup, and Gjetost cheese. Served atop a bed of charred rosemary aioli, fresh arugula on a Limpa bread bun.
RESTAURANT: Meister's Bar & Grill
NAME: German Meisterburger – Served on a pretzel bun with ham, sauerkraut, Swiss cheese and special bistro sauce.
RESTAURANT: My Burger
NAME: Double O.G. – Two patties made from a secret grind of sirloin, brisket, and short rib, topped with two slices of triple-thick American cheese on a toasted, egg-washed bun.
RESTAURANT: Pat's Tap
NAME: Big Cheese Burger – Cheddar, heirloom tomato, garlic dill pickle.
RESTAURANT: Peppers & Fries
NAME: Peppers PB&J Burger – All-beef patty grilled and topped with melted cheddar cheese and applewood bacon, then nestled on a buttered, toasted bun slathered with peanut butter and Peppers & Fries pepper jelly.
RESTAURANT: Red Cow
NAME: 60/40 Burger – 60% Ground Chuck and Short Rib & 40% Ground Bacon topped with Wisconsin cheddar cheese and candied Nueskies Bacon with Summit Beer Mustard on a Wuollets hamburger bun.
RESTAURANT: The Happy Gnome
NAME: The Gnome Burger – Steak patty burger, horseradish havarti, sun-dried tomato cream cheese, and dill-sriracha slaw.
RESTAURANT: The Suburban
NAME: Peaches & Cream – Peterson Limousin Beef on a milk bun with spicy caramelized onions, honey cured bacon and brie cheese.
RESTAURANT: Town Hall Tap
NAME: The Dough-Dough Burger – All beef slider with sautéed onions, cheddar cheese and béchamel sauce on a glazed doughnut bun.
RESTAURANT: The Salt Cellar
NAME: Salt Cellar Burger – 3oz burger blended from rib eye, hanger, sirloin and strip loin fat with white cheddar, house made bacon onions on a house made pretzel bun with beef fat pommes frites.
Press release courtesy of aimClear.