Red Cow – Edina MN
Burgers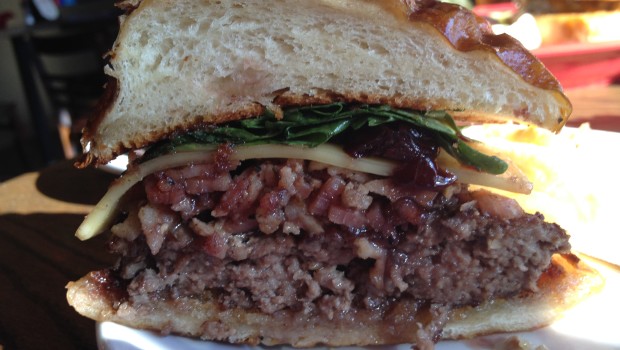 Published on December 30th, 2013 | by John
0
Red Cow Burgers
Summary: One of John's favorites - a must experience.
An Award Winning Turkey Burger and Some Other Fine Fare
Red Cow in Edina boasts a wide selection of fine burgers. Located just a block and a half from the infamous intersection of 50th and France, the restaurant is located in a strip mall setting. The location seems a bit odd because nothing about this place is strip mall. While the establishment offers higher-end burger fare they also have a great curation of wines and beers.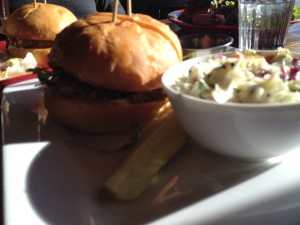 On this trip I was most interested in the award-wiining turkey burger (pictured right). Would this burger live up to the hype? Absolutely! Most turkey burgers run the great risk of being too dry or to make up for the lack of flavor and moistness are chocked full of spices and fillers that can often make the burger taste more like a meatloaf that a burger. Red Cow does a phenomenal job in providing a well seasoned, moist turkey patty. It is served on a bun with cilantro-lime aioli, sliced radish, arugula & crushed pistachios. The radish and pistachios are pure genius and complement this burger making it a delectable delight. Never had pistachios on a burger. Don't even think I like them much but keep them coming on this burger.
Since this was out first time to this burger restaurant we also tried out two other burgers  - Manhattan and the Ultimate.
Manhattan (pictured above) is 7oz of angus by Pat Lafrieda, bacon confit, gruyere cheese, arugula, and dried cherry-red wine reduction on a pretzel bun. A thumbs up on this burger concoction.
The Ultimate – a certified Angus burger, cheddar, iceberg lettuce, tomato, onion & red cow sauce – take it or leave it. Didn't do a lot for me but still above average.
Besides burgers, Red Cow serves up some great appetizers, side dishes, sandwiches, and more including a fine wine list and an extensive selection of micro brews.