Tavern 4 & 5 Burger Review Eden Prairie
Burgers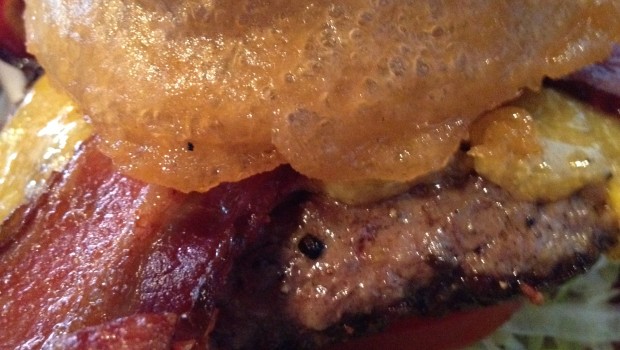 Published on March 23rd, 2014 | by John
0
Tavern 4&5 Burger - Overview
Summary: Great pickles with your burger. Average Burgers for price.
2.9
Great pickles with your burger
Pickles Star at Newly Opened Tavern 4 & 5 Burger Review
Tavern 4 & 5 is a recent new edition to the Eden Prairie, MN restaurant landscape.  The restaurant has had some favorable reviews and some friends of mine recommended I check it out. Needless to say, while the restaurant does a great job with customer service and atmosphere the burgers are middle-of-the-road but the pickles are the star. Maybe it was my selection of the Cowboy Burger (pictured above). The burger starts with a ground hereford aged chuck hand-pattied and flat-top seared. The burger is topped with 'award-winning bbq sauce', smokehouse bacon, a beer batter onion ring and melted tillamook cheddar.  It comes with Betty's pickles and choice of a side. In my case I went traditional with french fries.
The burger was cooked as ordered with some pink inside but the combination of the bacon, cheddar, onion ring just didn't make this burger stand out. The patty cooked have been a little more flavorful or the abundance of toppings just overshadowed it. Next time let's go with a plain burger so we can decipher the hereford meat patty.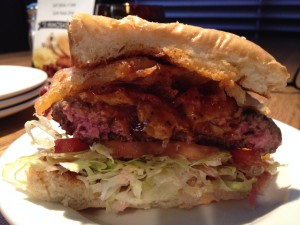 Service was great as we visited over a Friday lunch hour which quickly filled the dining room by noon. The restaurant has a few burgers on the menu in addition to the Cowboy Burger:
Bison Burger, sonoma county goat cheese, medjool dates
Tavern Turkey Burger, triple cream brie, pecan wood smoked bacon, house made cran-starwberry sauce
El Paso Turkey Burger, roasted poblano salsa, avocado, ques fresca
Like Downtown, maytag blue cheese, bacon, mayo
Cheese Burger, with choice of aged milk double cream brie, tillamook cheddar, tallegio, fontina, gruyere, maytag blue, jack
Boursin Juicy Lucy, boursin and 4-cheese blend, toasted caraway rye, patty melt style with caramelized onion
Zac's Burger, tallegio, bacon jam
Enough about the burgers, let's talk pickles. Burgers at Tavern 4 & 5 come with Betty's pickles. They were my favorite part of the dish and actually looked and tasted like homemade pickles. I think for my next visit (as i'm certainly not raving about the burgers let's give em a second chance) I'll try a simple burger with lettuce, tomato, onions and pickles.
The Tavern 4&5 offers a full menu and a full bar. It's definitely a hot spot right now for the Eden Prairie crowd. Much of the other food on the menu has received above average reviews so perhaps they'll adjust their burgers while they tweak things in their new kitchen. Since the West-side and South West-side suffer from a lack of numerous burger joints (Lion's Tap not included) let's hope they make it happen.