The Twin Cities Smashburger
News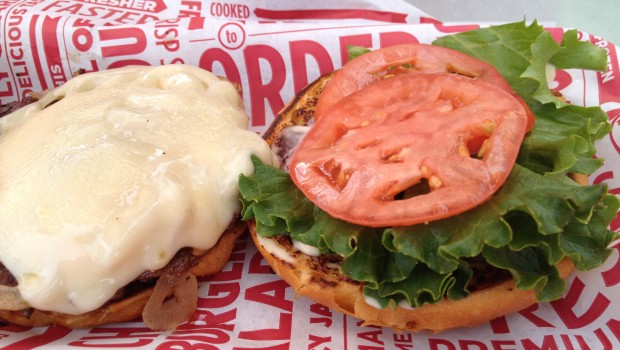 Published on June 9th, 2014 | by John
0
Twin Cities Smashburger – Just Say 'Cheese'
It's been close to a year since I've had a Smashburger so checking out the Twin Cities Burger was a perfect reason for another visit. For those of you unfamiliar with this burger chain, the name comes from the technique of smashing the ground beef on top of a flat grill – searing the patty to create a tasty crust with juicy meat inside. Done right you get a well seasoned caramelized burger with hot ground-beef bliss. Done wrong, it's a greasy, crusty, over-cooked patty.
Smashburger, as far as we know, is the only burger chain to offer a 'specialized burger' for every state in which it operates. According to Smashburger, 'The burger highlights the signature ingredients and taste combinations of each city, giving customers a burger built for their local palate.' With that in mind, me and three of my burger buddies headed down to the nearest Smashburger to test the Twin Cities Burger. During our drive to the Plymouth, MN, location we discussed what logic went in to the creation of the Twin Cities version – a Smashburger –with layers of melted sharp cheddar cheese, Swiss cheese and garlic grilled onions with lettuce, tomato and mayo on an onion bun.

Here are some of our thoughts.
The Twin Cities is home to the Juicy Lucy (spelled Jucy if you're a Matt's Bar fan). Two local joints, the 5-8 and Matt's Bar claim to be the original founder of a burger stuffed with cheese. While this might sound easy, the art of perfectly cooking a burger filled with cheese so each bite is a mouthful of molten cheese goo is not so easily pulled off. Trust me, I've tried a few copies and only the finest burger joints can skillfully do this without losing most of the cheese in the cooking process or serving a lump of cold cheese in the center.
Okay back to Twin Cities Burger. I suspect there isn't a way to create a Smashburger with a cheese-filling because of well – the smashing. Just the thought creates visions of flying, hot-liquid cheese and a trip to the emergency room. So perhaps Smashburger decided to put 'twin' cheeses on this local specialty. My strategy would have been to offer a twin-pattied burger; but as one of my buddies pointed out this would be too much meat for the casual burger diner.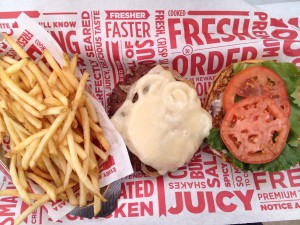 Mayo on this burger is very 'Minnesooooda' (Say with Fargo accent. BTW Fargo is in North Dakota). This goes back to the state's Norwegian heritage.  One of my other buddies suggested it should have Lutefisk on it but that would mean no one would actually order or taste this burger. Grilled garlic onions, well who the hell doesn't like grilled garlic onions. The onion bun fits that same bill. In the state that made Wonder Bread, mayo, and tater hot dish Sunday dinner staples, a little onion and garlic is 'pushing the envelope' for dressing up your burger. So hence, the Twin Cities Burger.
So what did we think of this burger? It was actually a pretty good for the fast-food variety. And this is from a guy who prefers the absence of mayo on his burgers. We all ate the burger 'as is' and we all agreed it was a tasty, cheesy burger. The sharp cheddar pretty much dominated the cheesiness. The burger was made by having the sharp cheddar melted on top of the grilled onions, with the Swiss placed on top of the cheddar. The swiss stayed in relative square form (as you can see in the pictures) while the chaddar was hot and molten (Jucy Lucy reference) and practically permeated the beef. Which was kind of cool. If you're a cheese lover this burger is for you. For those unfamiliar with Minnesota geography the cheese-heads of Wisconsin are on our eastern border. They don't have Smashburgers yet but rumor has it they have a pretty good football team. My only criticism of the burger is the cheddar tasted a bit processed – meaning it didn't have the normal consistency or flavor of a sharp cheddar but more of a manufactured/Velveeta-like consistency.
For just about $10 we were treated to a nicely done, seasoned, cheesy burger with good onion/garlic flavor on top of a delightful onion bun. Add a generous offering of fries and a soda, and it was a pretty good burger lunch for a chain. I put Smashburger in the Five Guys, In 'n Out division (order at counter, custom made fresh, delivered to your table). My hat is off to the Plymouth, MN location too as they consistently are able to deliver the quality smashing and cooking of their burgers that makes the chain popular. The seasoning was right on too – another secret of the Smashburger success. In addition, this burger has earned high praise from Minneapolis-St Paul Magazine. So next time you need to get your cheese on, and a Jucy Lucy isn't available, give this burger a try.