American Burger Bar – Minneapolis & St Paul MN
Burgers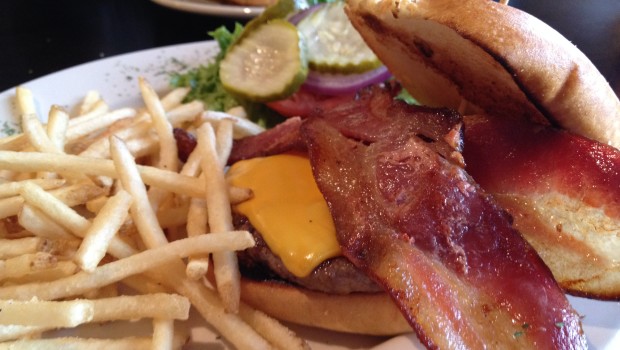 Published on August 30th, 2013 | by John
0
You would think that a restaurant that has 'Burger Bar' in the name would serve up a better burger. I've visited this restaurant twice and both times I've come away a bit disappointed. While this burger joint provides a wide selection of burgers and toppings – including choosing your type of bun, the real disappointment is the burger patty itself.
It doesn't take long to notice a meager flat patty that does little to impress or stand up to the toppings. My patty on my 'All American Burger' – your classic bacon cheese burger (pictured above) almost resembled one of those beef patties that you can buy in any ordinary supermarket. My dining companion had the Kobe burger which made a little better impression as it was almost twice as thick. Unfortunately it didn't do a whole lot better on taste.
While the American Burger Bar has three locations (we visited the Minneapolis locate in the LaSalle Plaza), it does little to stand up to doe of the other top burger joints out there. I'm certainly disappointed that for such a premiere downtown location, this place doesn't do a better job.
With all the negativity of this review, the servers are friendly and attentive. Food was served quickly and the shoe strings are pretty good too. Not the worst place to have a burger but could certainly be a top downtown burger joint with some improvement to their patties.