Best New Twin Cities Burgers of 2015
Burgers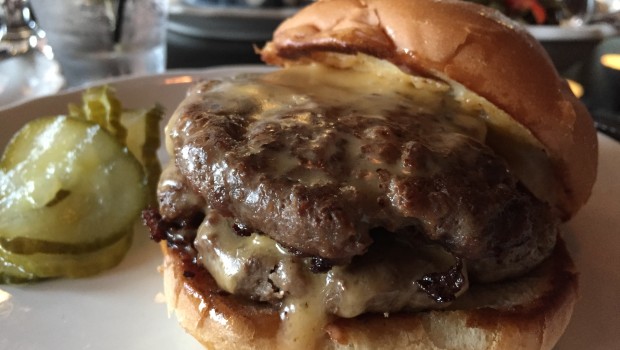 Published on January 7th, 2016 | by John
0
2015 was quite the year for Twin Cities restaurants. While some of our favorites closed their doors after years of memorable food and service (Vincents, Origami, La Belle Vie), there were plenty of new ones popping up delivering some top dishes. Fortunately for us burger-lovers there were also some tremendous new burgers hitting Minneapolis and Saint Paul neighborhoods. Here are our top favorite new burgers of 2015.
*In alphabetical order
Minneapolis
Il Foro – Burger 2.0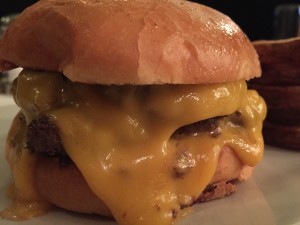 You wouldn't imagine an Italian restaurant knocking out a top-rated burger but let me tell you this burger ranks as one of the best burgers to hit downtown Minneapolis. A juicy, seared, two-patty encased in melted cheese is clearly a heavyweight contender against just-a-few-blocks-down-the-road Parlour Burger. Speaking of Parlour, the Burger 2.0 is the reinvention of Parlour alumni - Chef Joe Rolle. Rolle is clearly a burger master with experience at both Parlour and Vincent's. When it comes to upgrading your burger to 2.0, reboot and press the 'yes' button. This burger is available for lunch only but there are a limited number available in the evening; but if I were you, I'd grab my coworkers and treat them to this culinary delight. That's amore!
Nighthawks – Nighthawks Cheeseburger (single, double)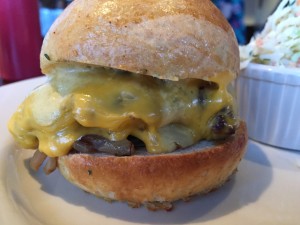 The Kingsfield neighborhood is becoming the Mecca of innovative and alluring dining in Minneapolis. Nighthawks pays ode to the great American institution  - the diner. Along with some amazing blue-plate specials is a single or double-patty seared-on-the-grill burger that rivals the rest of the smashed burgers in town. Along with a delicious blend of ribeye, brisket and chuck comes grilled onions, home-made pickles and special sauce. Chef Landon Schoenefeld, knows his burgers – serving up the revered burger at Haute Dish. I ordered the single and quickly regretted not getting the double. Like our other favorites, a blend of cheesy lava-like goodness engulfed this testimony to burger meets diner fare. They also serve up some mind-blowing hot dogs and fries so come with friends and prepare for meat and bun feast.
Revival – Revival Burger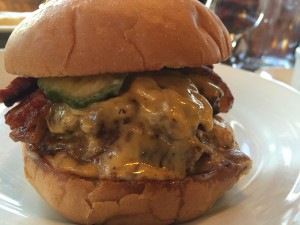 Just a few blocks down Nicollet Avenue from Nighthawks comes Southern-cooking extraordinaire - Revival. Quickly acclaimed in 2015 for the best fried chicken in town comes another preeminent contender for burger-of-the-year. Like many superior burgers in town,  this a twin-patty seared and delivered with copious amounts of melted cheese. Add bread and butter pickles and you have a delicious combo of meat and cheese north of the Mason-Dixon line. Chef Thomas Boemer has easily vaulted himself into Twin Cities burger lore; hence hand-picked as a judge at 2015's Twin Cities Burger Battle. His restaurant is always hopping so prepare yourself for a bit of a wait. Go with a loved one and treat yourself to a burger and a side of fried chicken, hoppin' john, and some grits and gravy. Ya'll come back now, ya here!
St Paul
Paddy Shack – Paddy Shack Burger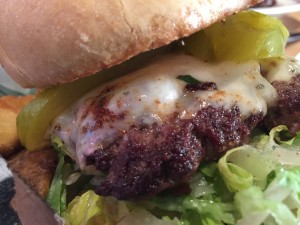 Technically Paddy Shack opened in the latter part of 2014 but I ventured there in early 2015. This restaurant inside the beloved hole-in-the-wall, Half-Time Rec, is truly an Irish blessing. Back before Kieran's and the Local hit the Twin Cities this is where we ventured to drink a properly drawn pint of Guinness while listening to live Irish music. This burger rocks the Blarney. It's no surprise the Paddy Shack took 2015's Twin Cities Burger Battle Critic's Choice Award. The Irish have always had a flair for meat and bread. Chef Jack Riebel's half-pound burger with pickled green tomato, onion and paddy sauce is truly remarkable and messy (the good kind). A nice little bite and spice that compliments this simple yet decadent burger. This is pub food at it's best from St. Paul to the Emerald Island.
Saint Dinette – Cheeseburger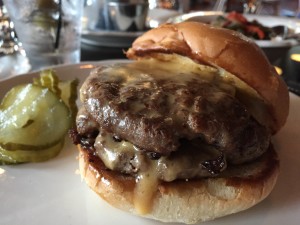 Nestled just blocks from the new Saint Paul Saints stadium comes the twin-seared-patty with melted American cheese from Chef Adam Eaton. One bite and you're in burger bliss. Owners J.D. Fratzke and Tim Niver know a fine burger as their Chef's Loaded from East-Side's Strip Club was a 2014 favorite burger pick. This patty of dry-aged chuck, sirloin and brisket is perfectly seasoned and seared. What makes this burger standout is the delectable American cheese that is infused with champagne – giving it a silky texture that seductively drapes and enshrouds the meat. This is a burger that'll seduce and satiate you like a long-lost lover. The homemade pickles and plating are spot on. And the fries are crisp and seasoned to perfection. A true work of art and fine addition to St Paul's Lowertown.
Salt Cellar – Salt Cellar Burger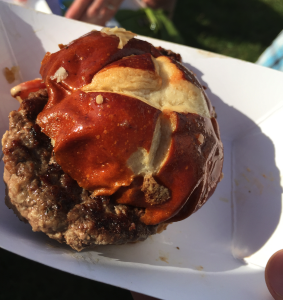 This newly opened steakhouse near Cathedral Hill serves up a tasty eight-ounce burger of ground steak, white cheddar, bacon onions and beef fat fries leaving you full but wanting. Chef Alan Bergo's burger comes atop a sturdy yet appropriate sized and squishy pretzel bun that doesn't overshadow the patty and toppings. One thing we admire about Salt Cellar is they joined the aforementioned Twin Cities Burger Battle just months after opening and put forth a brave and competitive effort for the coveted prize (see pic). While they didn't win they proved that their burger is a competitive rival for a top burger in St Paul.