Lions Tap Family Restaurant
Burgers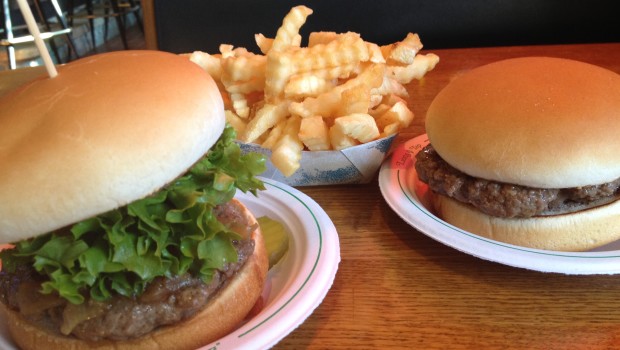 Published on August 29th, 2013 | by John
0
Lions Tap Family Restaurant - Overview
Summary: For over 50 years serving up great fresh burgers in a no-frill environment.
The historic and iconic Lion Tap has been around serving up fresh-made burgers with little to no fanfare for over 50 years. It's not surprising that this place is packed for lunch and dinner every day of the week. The model is simple – serve only burgers and fries, with a small selection of draft beers and soft drinks.
The limited menu makes ordering a breeze. Get your burger single or double – with raw or fried onions. No fretting about toppings or selection of meat. The classic American burger restaurant.
On my latest visit I was able to get a seat right away as I just managed to sneak in before the lunch rush. I was greeted by a friendly host who escorted me to a booth. I was immediately waited on by my server. Ordering was quick and simple. What really impressed me was the servers who took care of everyone without worrying about which table was 'theirs.' You have to love a restaurant that has that type of concern and attention to its customers.
I order a plain burger with onions so I could get a clear taste of the burger patty. On second thought I should have had it with cheese. I also had the California Burger which comes with Lettuce and Tomato. Both burgers were tremendously juicy. The measure of any great burger is the juiciness. I noticed a hint of salt on my California Burger. I love salt so that bit of seasoning was welcome.
My only criticism of the burger is I had hoped the California had a special sauce to go with it. Obviosly upon writing this it dawned on met that my server asked me if I wanted mayonnaise on it (which for me is like showing a cross to a vampire). My guess is that this burger parlor sticks with the traditional therefore mayonnaise is what you get on a California burger! Good for them for avoiding the fancy aioli.
Another reason to love this place besides the burgers is they originally came up with the slogan, "Who's Your Patty" and went head-to-head in a legal battle with McDonalds. Not only did they win but proved that the little guy can prevail.
The menu is simple (see below) and priced well. For hand-made fresh burgers in a sit-down restaurant, you can't go wrong on the value of this establishment. It's easy to see why they have been so successful and continue to serve up some of the best burgers this side of the Mississippi.