Salut – Edina MN
Burgers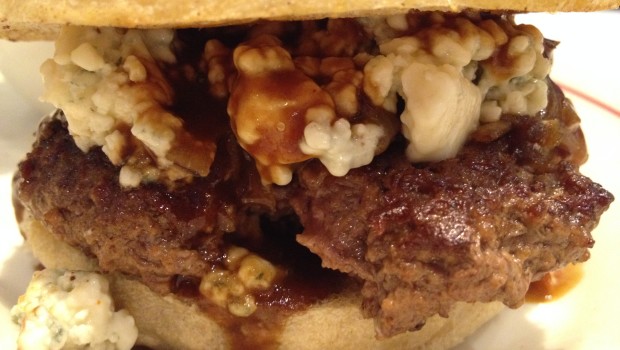 Published on February 17th, 2014 | by John
0
Burgers with Flair and Taste
Zut alors. I must admit i was a little skeptical about this burger tasting. Although I'd heard plenty of reviews about Salut's great burgers I wasn't sure what to expect from this established French bistro off 5th and France in Edina. Luckily I had one of my burger partners with me to help me explore the world of 'zee burgers and zee fries' at Salut.
First of all we had a great server named Carissa who was very friendly and helpful. We arrived at our destination on the latter part of the lunch hour so the pace was a little slower for all of us. We selected three of the five burgers available from the lunch menu (pictured below):
Le Cheeseburger Royale – with aged cheddar and bacon.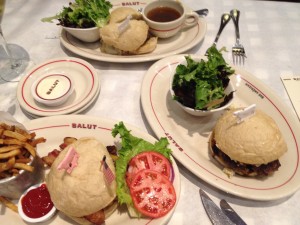 Burger Bar Americain – with caramelized onions, blue cheese, and bordelaise.
"Ze French Onion Soup" Burger – with caramelized onions, swiss cheese and a side of onion broth.
We asked for all our burgers prepared medium. Our Cheeseburger Royale was a perfect medium with lots of pink. Unfortunately our other two were closer to medium-well.
But the good news is all three of our burgers were well above par. My dining partner's favorite was the Cheeseburger Royale. Much to my surprise I found the French Onion Burger one of the better 'dipping' burgers. A few restaurants in town offer their own onion au jus for dipping – but remember this is a French bistro known for their French Onion Soup. This is by far the winner in that category.
But my biggest surprise was the Burger Bar Americain (pictured at top). I have a bit of an aversion to blue cheese – something to do with my childhood but that's another story. This burger was by far the most flavorful. i was concerned the blue cheese would overpower the burger but instead I had a well balanced sweet and savory bite. The bordelaise – a French sauce named from the Bordeaux region is dry red wine with bone marrow shallots, butter and sauce demi-glace, gave this burger a rich meaty flavor that mellowed the blue cheese. All-in-all this was my favorite burger even though I would never had ordered it under ordinary circumstances.
Our burgers came with the classic pomme frites. Another wonderful accompaniment to a great burger lunch. Even as we dawdled through out lunch the cold pommel trite (french fries) were still delicious. Take note my french fry loving friends!
The only other note about the burgers is the homemade ciabatta buns. While they're a little on the pale side they still had an out firmness and spongy inside that were sturdy enough to hold our burgers even with toppings and dippings.
The burger menu at Salut offers a few there fares, but I think we hit the trifecta with these burger bad boys. All I can say is Viva la France!