The Kenwood – Minneapolis MN
Burgers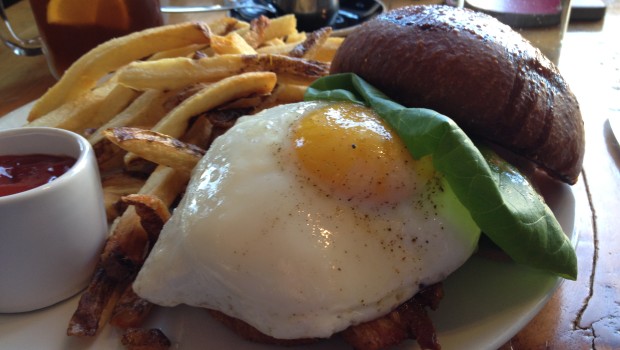 Published on November 13th, 2013 | by John
0
The Kenwood - Overview
Summary: One of John's favorites - a must experience.
Hands down one of the best burgers in the Minneapolis Twin Cities Metro. If you're going to spend a few extra bucks on a high-end burger this is easily in my top three burgers. The Kenwood offers two burgers – the Limousin Beef Burger and the Kenwood Burger (pictured above).
Kenwood's burgers are made with ground beef from Peterson Limousin Farms on top of freshly baked buns from Patisserie 46. The decadent and delicious Kenwood Burger ($14) is prepared with seared pork belly (vs. bacon), melted gruyere cheese, tomato aioli, bibb lettuce and topped with a barely cooked seasoned sunny side egg. The mess caused by the egg is well worth it as it oozes its buttery juice throughout the medium-rare perfectly charred burger. Did I mention getting your burger medium-rare? Not for the faint of heart but if you're a real seasoned burger enthusiast you'll be glad you did.
What works so well, as for any great burger, is the patty itself. Perfectly formed, seasoned, and cooked, it's the perfect foundation for this heavenly meal. Even with the Gruyere and pork belly, you can still taste the succulent beef with each mouthful.
The Limousin Beef Burger ($10) goes with the option of plain or with your choice of Cheddar, Gruyere or Blue (for $2 extra).
Although the burgers at the Kenwood are priced a little higher than other burgers, it's still one of the best deals in town. To enjoy such a delicious blend of an near-perfect burger, you can't go wrong. Easily one of the best burgers I've had to date.
Located in the swank Kenwood neighborhood the restaurant provides off-street parking with limited bar of wine and beer.