Twin Cities Burger Battle Results Are In
News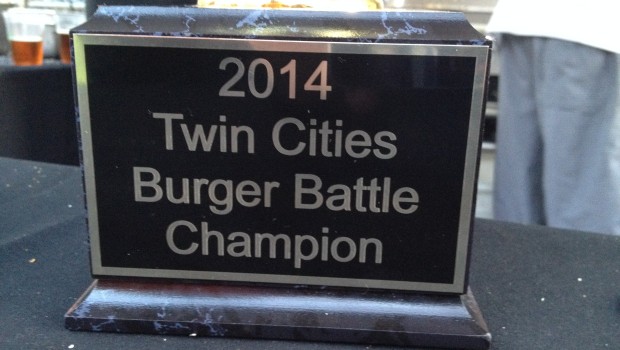 Published on May 22nd, 2014 | by John
0
Results are in as Inaugural Twin Cities Burger Battle is In the Record Books
The votes are in, the smoke has cleared, and the champions have been crowned. It's over. The inaugural Twin Cities Burger Battle now joins the annals of Twin Cities history for all of us burger-loving enthusiasts.
First, I must apologize to everyone that it's taken me several days to pull myself together to write. Unfortunately I've been Mr. Fix It of late including a reset to factory settings iPad (screaming 14-year old daughter), dropped iPod in toilet (this is the worst day in my life 11-year old daughter), and I just got my fourth flat in 5 months (quite calm wife, but yours truly swearing under his breath husband).
Okay back to the results of the Twin Cities Burger Battle. To kick things off I have to tip my hat to Jim Buron for making this event happen. I've jealously watched cities across our great country have their own great burger battles while we scraped cakes of frozen ice off our windshields knowing that we boast some of the best burgers in the country.
So lets sum up the highs (quite many) and lows (hardly any). Clearly the winners were the attendees as we had a perfect sunny day with temperatures in the low 60′s. A perfect setting to purge ourselves on 12 respectable entries in this years burger battle. Throw in the endless supply of beer from Summit Brewing with a great cover band and you have the perfect ingredients to a superb evening.
Most if not all participating restaurants met the challenge of cranking out over 1,500 quality burgers. There was a couple of surprising stumbles but I think all our competitors did a fine job.
There was a sense of pre-set expectations as the longest lines were at Victory 44, Red Cow, and Casper Runyon's Nook (if you're fa local it's just The Nook). Victory 44 crawled along as only 2 chef/cooks manned the grill to build their 'Perfect Burger.' Unfortunately our anticipation to this great burger (yes, I've had it in their restaurant and can easily say a top Twin Cities burger) but it severely disappointed as each bite was a mouth full of over salted beef.
Quite the contrary, The Nook had five cook/chefs cranking out not only their Cutie-Kabobb-urger (yes, it's spelled that way) but also a bacon-cheese curd accompaniment. The historical burger joint obviously knows how to crank out great burgers in quantity and consistency. I assumed this burger had at least a top-three finish.
Let's just get to the beef of the matters of the results of the Twin Cities Burger Battle. Congratulations to the Judges Choice Winner – B-52 Burgers. Their entry, the B-52 Spicy Burger easily had the most heat to any burger plated last Saturday. I had the opportunity to talk to owner Mark Reese about his victory. "We just kept it simple," described Mark. "We used fresh ingredients and just did what we do best."
Upon announcent that B-52 had won the grand prize you could hear a sense of surprise and under-the-breath murmuring as no one expected this dark horse from the Southeast suburbs to pull off a victory. But when you step back you witness the only burger joint that put both veggies and heat on its burger. The majority of our other competitors were playing it safe with cheese-laden or bacon-cheese-laden burgers. We're seeing a burger trend of hot and sweet which is such a powerful and complimentary addition to a great burger.
The People's Choice Award winner Gold Nugget delivered a Chimichurri Burger  - a burger infused with Mortadella ham,  gruyere, bone marrow mayo, tomato jam, on a uniquely spiced bun. This was one of the few burgers to do anything that attempted a tomato jam/ketchup on their burger. I know some burger snobs don't want to soil their burgers with anything related to ketchup but aioli is so 2012. This burger was one of my favorites showing some ingenuity and delivering a perfectly seared and seasoned burger. I was vey happy to see them celebrate their victory.
There were a few burgers of note as some of our locals pushed the envelope. Probably the most 'out there' was the Sweet Ride by Groveland Tap. A battered and fried burger topped with sweet pickled onions. The onions were definitely the star for me. Unfortunately I had ingested way too much burgers at this point in the testing. I had to do some serious breathing exercises to get this fried wonder down. I loved that they created something completely off the grid that you'd either love or hate. That takes burger-balls!
One of the other surprises for me was My Burger. Most reviews from friends have been average at best. But their Truffle Pig Burger had a three-meat grind of chuck, sirloin and brisket. They pulled off a terrific tasting burger that was the clear favorite of my burger buddie Tim as we made the rounds. I'll have to visit them soon and test more out.
Some final thoughts. Next time I'll do a better job managing my portions. I obviously ate too much of each sampled burger in the first hour making tasting more difficult as the evening wore on. I advise next year's participants to divide and conquer  - cutting up burgers and sharing with a group. You need to leave some room for some great beer too!
To next year's competing restaurants. Easy on the salt! I love the stuff. I practically have a salt lick in my house but I must have consumed a gallon of water post event to deal with an overdose of sodium chloride. I'd also strongly suggest more vegetables. The Nook's Cutie-Kabobb-Burger with mushroom, peppers, onions, and a small pickle, tomato side had clearly distanced itself from the others.
Finally thanks again to Jim Buron for putting on a great event and more importantly the fundraising of $5,000 donated to the Sanneh Foundation to continue its great work providing positive environments for urban youth.
Next years's event is planned in Minneapolis with more restaurants to compete.