Edina Grill – Edina MN
Burgers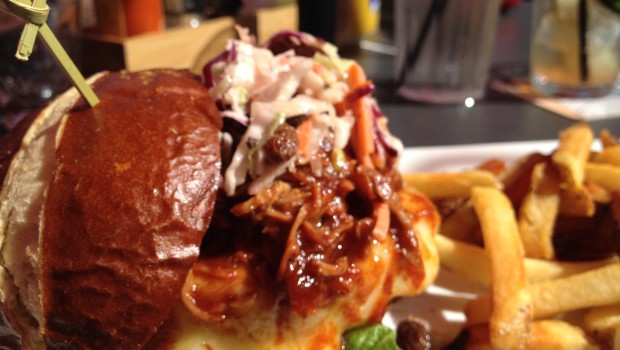 Published on October 4th, 2013 | by John
0
Summary: Great pace for a burger.
You can't go wrong with a Blue Plate restaurant when it comes to a decent burger. On my latest trip this past September I tackled the smokehouse burger (pictured above). A nice beef patty with pulled pork, cheddar, cole slaw, on a pretzel bun. I enjoyed this take on the barbecue/coleslaw combination also know as a Memphis-style pulled pork sandwich. The juiciness of the bbq pork and coleslaw held up well. Not overly saturating the bun while the beef patty was still holding its own. All these delicious toppings didn't overwhelm the juicy tasting burger underneath. A true sign of a well seasoned and seared beef pattie.
My lunch partner has the award winning turkey burger with sweet potato fries – another great burger from one of my favorite neighborhood lunch spots. While the Edina Grill has a well balanced diversified menu, don't hesitate ordering a burger on your next visit.