Results of Twin Cities Burger Battle 2017
News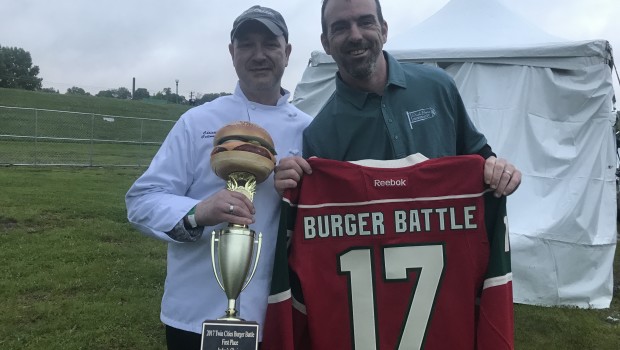 Published on May 27th, 2017 | by John
0
First-time entries score big at Twin Cities Burger Battle 2017
"Rain rain go away, come again another day." That was the mantra last weekend as burger enthusiasts longed that the weather would cooperate for the 4th Annual Twin Cities Burger Battle. The skies never cleared but that didn't stop over 1,500 burger enthusiasts from descending upon Harriet Island for their chance to enjoy burgers from 22 worthy challengers to crown the Best Burger in the Twin Cities.
I can only imagine what was going through Twin Cities Burger Battle founder Jim Buron's head when he woke up to storm clouds, a 90% chance of rain, and highs only in the upper-40′s. Luckily the lightening that was forecast earlier in the week never came to fruition. The Battle was on!
To stay as warm and dry as possible I arrived just before 5:00pm to a larger than expected crowd. This is Minnesota, the land of 10,000 lakes where weather changes as frequently as Beyonce's outfits. Minnesotan's love burgers and beer. They were not to be denied by rain, wind or cold.
Besides the weather this year's battle provided a few notable differences from past battles. Riding a similar trend from last year, we saw more offerings of heat and spice including: green chilis, jalapeño, Sriracha, pimento, various mustards and aiolis. Burger toppings were also much more diverse going well beyond caramelized onions with culinary delights such as charred scallions, pickled mushrooms, spinach, fresh basil, truffled mushroom salad, pickled jicama, carrot slaw, cilantro-lime coleslaw, apple-cilantro slaw, pickled sprouts, and blackberry jam. This year, two restaurants – St Paul Grill and 7th Street Social cooked up pork-based burgers. Both were very notable and delicious. Some of my fellow foodies thought St. Paul Grill's Bahn Mi Burger was one of the best. Hats off my friends for not playing it safe. We haven't seen a non-cow-based winner yet at TC Burger Battle, but I think we're getting close.
And how about our first non-meat burger as The Buttered Tin baked up their Chocolate Chip Whoopie Cookie – buttercream frosting between two chocolate chip cookies. Not exactly a burger per se, but still a yummy treat to be had.
Plenty of newcomers to this year's competition:
BLVD Kitchen & Bar
Black Dog Lowertown
Brunson's Pub
The Buttered Tin
Haute Dish
McNinney Roe
Mercy
Ngon Bistro
Sparks
Ward 6
And now to the winners...
Judges Choice:
McKinney Roe
Brunson's Pub
Kendall's Tavern and Chophouse
Peoples Choice:
Casper's and Runyon's Nook
Tin Cups
Peppers and Fries
All three picks for the Judges Award were new entrants to the competition. Minneapolis-based McKinney Roe took top honors with its Big Stag Burger. Two angus beef patties, white American cheese, sliced dill pickles, maple peppered bacon, caramelized onions, frizzle onions, and dijon aioli on a pretzel roll.
Eastside's Brunson's Pub's #NOPAINENOGAIN Burger, a black angus patty, topped with pulled-bacon, blackberry vidalia jam, smoked blue cheese, on a milk bun took second. And Coon Rapids Kendall's Tavern, taking third with its Whiskey Burger. A whiskey-glazed angus beef patty topped with thick-cut bacon, sharp cheddar, lettuce, tomato, onion, and A1 mayo.
St Paul's Casper and Runyon's Nook, a 4-time participant, captured its first win claiming the People's Choice Award with its Homer Simpson Burger – home ground chuck topped with cheddar, apple smokehouse bacon, and bourbon sauce nestled inside a glazed donut. I'm a big fan of donut burgers when they're done right and this was very well executed. In addition, The Nook served up shots of warm apple whiskey that helped fight off the cold. At least that was my excuse to imbibe.
St Paul's Tin Cups in their second burger battle took second place with their T.C. Burger – a double burger with pepper jack, cheddar, coleslaw, onion ring and Tin Cups sauce on a St.Agnes Bakery bun. And last but not least, Minneapolis' Peppers and Fries who won the People's Choice category last year, took third with The Candied Cowboy – an angus beef patty topped with pepper jack cheese, cilantro-lime coleslaw and candied jalapeños inside a toasted bun.
But the biggest winner was the Sanneh Foundation. They were presented with a check for $10,000 by Jim Buron. The foundation helps at-risk children develop leadership skills with mentoring, after-school programming, tutoring and college prep training.
Unfortunately live music by the Kurt Jorgensen Band was cancelled due to the weather but a sound system of 70's, 80's, and 90's music kept the beat throughput the event.
Thanks to all the restaurants and participants who braved such a cold wet blustery evening. Putting your resources to the test on the busiest restaurant night of the week takes a lot of fortitude and planning. My only criticism is several competitors ran out of burgers less than 2 hours into the event. My guess is they assumed a smaller crowd.
I'm already looking forward to the 2018 event. Hopefully a little drier and warmer. But whatever the weather, you can bet there'll continue to be amazing burgers.