Redcow, Peppers and Fries Win Big at Twin Cities Burger Battle 2016
News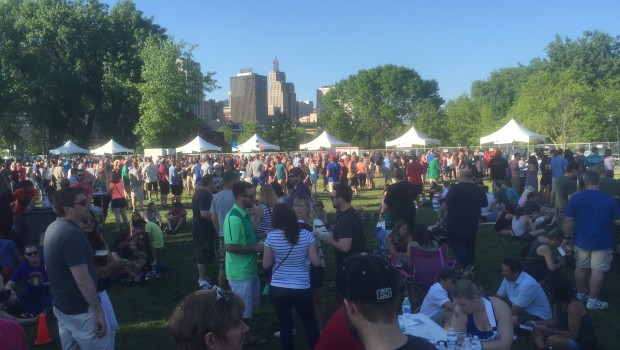 Published on May 24th, 2016 | by John
0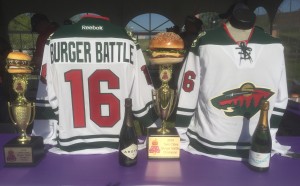 Minneapolis evens the score at this year's burger battle.
With 25 restaurants competing for the envious title of best burger in the Twin Cities, the 3rd annual food festival delivered quite the punch. Organizer Jim Buron couldn't have asked for better weather – a nearly perfect day with deep blue skies, nary a wisp of clouds, and temps in the upper 70′s.
The venue for the Twin Cities Burger Battle (TCBB) rotates between the two cities. St Paul hosted this year's event at the scenic Harriet Island Regional Park – just across the great Mississippi from downtown. The cityscape provided a majestic backdrop to the battle that brewed below it. Gates opened a few minutes before 5pm – allowing ample time for the sold-out crowd of 2,500 to get a cold refreshment from local beer sponsors, Fulton and Summit Brewing, and start lining up at their favorite burger tents.
We set our sights on tasting all 25 burgers, a lofty goal but one that had to be attained – yes, we all do suffer for our craft.
This year's offerings boasted more flavor and more heat. In 2014 and 2015, the Judges' picks were burgers with a bit of kick. Obviously contenders took notice offering varieties with ghost cheese, poblanos, chilis, pimentos, Sriracha, jalapeno, cajun spices, and chipotle. We also saw our first full non-cattle burger in this competition with Firelake's Bison Burger. I've been curious when someone was going to take that leap. It didn't place but it made a great showing. Perhaps the future will showcase other meat offerings. Could we even see a non-meat burger in the future?
Bacon continued to be a dominant topping.  We sampled plenty – candied, thick cut, honey-cured, homemade, and even two topped with prosciutto. We also appreciated two Juicy Lucy style burgers – Tin Cup's 'Inside Out California' and the 5-8 Club 'Candied Lucy. Last but not least, two Thai inspired creations – Peppers and Fries 'Bangkok Burger' and Busters on 28th 'Red Curry Thai Peanut' which also offered the first fried egg in this competition. I'm a firm believer that egg is the greatest thing to happen to a burger since bacon and cheese – but that's another story.
With the expansion from 20 to 25 restaurants this year, we enjoyed several newcomers to the competition:
BLVD
Buster's on 28th
Citizen Supper Club
Ox Cart Ale House
Pub 819
Rock Elm Tavern
Strip Club Meat & Fish
Tilia
Tin Cup's
Citizen Supper Club and Rock Elm had the greatest success taking a 3rd place finish in the competition. But all new contestants made valiant efforts and raised the culinary bar.
And now to the winners...
Judges Choice:
Red Cow
Paddy Shack
Citizen Supper Club
Peoples Choice:
Peppers and Fries
Red Cow
Rock Elm Tavern
In it's second year competing, Peppers and Fries took honors for the People's Choice for its 'Bangkok Burger' – an all-American beef patty, cool cream cheese, house-made sweet Asian garlic sauce, creamy Sriracha coleslaw, and fresh jalapeno slices and cilantro on a butter, toasted bun. What a gorgeous burger!
Three's a charm as veteran participant Redcow took the Judges award for Best Burger with its 'Double Barrel Burger' -two succulent house-ground beef patties, house-made American cheese, special sauce, on a Wuollet hamburger bun. A smart move by Redcow as the double smashed cheeseburgers are a top favorite by critics and patrons alike throughout the Twin Cities.
2015 winner Paddy Shack came close to becoming the first repeat victor with a second place finish.
With two victories on the west side of the river, we now have 3 winners from each respective metro area!
St Paul: B-52 Burger (2014), St Paul Grill (2015), Paddy Shack (2015)
Minneapolis: Gold Nugget (2014), Peppers & Fries (2016), Redcow (2016)
Another big winner was the Sanneh Foundation. The foundation helps at-risk children develop leadership skills with mentoring, after-school programming, tutoring and college prep training.. The event raised $12,300 for the Foundation ($10,000 in donation and $2,300 via raffle tickets).
Local celebrity couple Falen from KDWB and KFAN's "Meatsauce" Paul Lambert emceed the event while funk group, Funktion Junction, kept a heavy beat to the festival and even belted out a couple of Prince tunes in honor of our fallen royalty.
2017′s burger battle will take place again next year. If it's anything like this year, it will continue to deliver some bold, creative, and delightful burgers that highlight the Twin Cities as one of the best places for our favorite culinary treat.