The Lowry
Burgers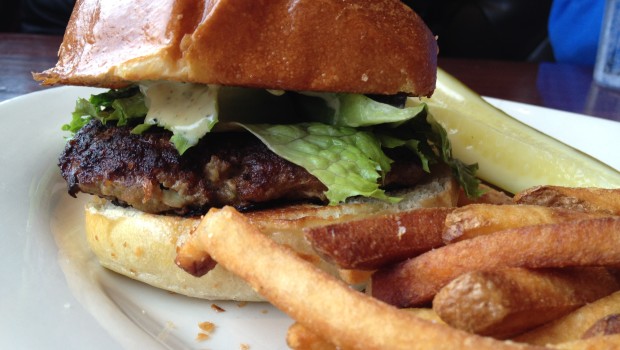 Published on October 22nd, 2014 | by John
0
The Lowry - Burger Review
Summary: Go for the above-average Turkey Burger and great beer and drink selection.
2.8
Solid but not exciting
Oysters, Booze and Burgers
The Lowry in Minneapolis is another stand out establishment from Blue Plate restauranteur David Burley. We've had other burgers from Blue Plate restaurants such as the Edina Grill and were expecting at least the same level of burger flair. We weren't disappointed as this was our second burger tasting at the Lowry.
The burgers at the Lowry are better than average. It's not necessarily a 'burger joint' so to speak nor does it advertise it's burgers on the menu as some non-burger-joints-but-you-must-have-one-of-our-homemade-patties-cause-we're-jumping-on-the-burger-bandwagon. With that said this restaurant nestled in the Hennepin and Franlkin Avenue neighborhood boasts good food in a casual environment so we do expect a certain degree of burger-ability.
My wife (who I coaxed into doing a burger-tasting) and I ordered the turkey burger and the Lowry Burger as recommended by our server. The Lowry Burger is topped with fried shallots, barbecue sauce, bacon, and Tillamook cheddar. I further 'Lowryized' my burger by adding fried oysters to give it distinctness as advised by my helpful server. The Turkey Burger (which I've had before and recommend) was flavored with peppers, peanuts, curry spices, and topped with pepper jack cheese and poblano pesto. I must say the Turkey Burger is probably my preferred burger so far at this establishment.
While my burger came with topped oysters for an extra $2.00 you can see by the photo at top they were quite small. Be it that oysters in themselves are a bit small and are best served raw, I was slightly disappointed as they were lost in the rest of the toppings on my burger. Furthermore, I requested a medium-cooked burger and received a medium-well cooked burger. The slight overcooking of my burger resulted in a little more dry and less-flavorful treat. What could have been a memorable meal resulted in a 'meh' reaction.
Needless to say, they restaurant has a great selection of options for breakfast, lunch and dinner. A nice wide selection of local and national micro-brews. Even being on the edge of Uptown, they have easy and ample off-street parking located right off Hennepin Avenue.