Vincent Burger – Vincent Restaurant Minneapolis MN
Burgers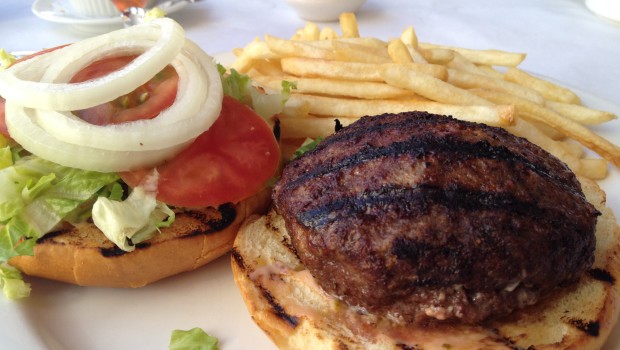 Published on February 26th, 2014 | by John
0
Vincent Burger
Summary: An upscale Juicy Lucy worth every penny.
Move Over Juicy Lucy – Extraordinary Stuffed Burger at Vincent's
Who would have thought this French restaurant located at 12th and Nicollet would be serving up a top burger in the Twin Cities. I must confess that this burger has been on my list for a long time as several bloggers and local food magazines  have touted this burger as one of the best burgers in the Twin Cities. And I'm happy to say they are absolutely right.
I love chef Vincent Francoual's take on the Minnesota-born Juicy Lucy. This burger could be called the high-end Juicy Lucy. If this was a scene from Pulp Fiction, Samuel Jackson would say Le Juicy Lucy.
Instead of the ordinary cheese-stuffed burger, Francoual fills his burger with braised short rib and smoked Gouda. What you get is a moist, tremendously flavored burger. This culinary delight literally melts in your mouth, and not in the cheesy gooey way – absolutely sublime in flavor and texture.
The Vincent Burger is served atop an egg hamburger bun (?) from Franklin Street Bakery with a slice of tomato, sliced onion and chopped lettuce. The simple toppings and presentation of the burger leads one to be initially underwhelmed by its appearance. But put it together and take your first bite and you are wondrously surprised. You have to Francoual's approach because the foundation of any great burger is the patty. And this burger is packed with flavor. I resisted even applying any ketchup as the melted Gouda along with the toppings provided a moist and juicy burger experience.
The french fries (pommel frites) are the simple shoe-string type served crispy and salty. Nothing as extraordinary as the burger but still a nice accompianment to the burger. We ordered our burgers with the peppercorn sauce that comes with the other burger option at Vincent – Le Frenchy Royale. That served as a perfect dipping sauce for our frites.
The Vincent Burger is also offered at Target Stadium home of the Minnesota Twins. You can also get a reduced price on the Vincent Burger for only $8.00 versus $15.50 on the lunch and dinner menu.
I must confess I'll have to go back and try Le Frenchy Royale – a burger basted in peppercorn sauce, with  Brie fondue, crispy oyster mushrooms and onion. Sounds magnifique!